Grace Hale Boutique and Spa
Grace Hale needed a website design that promoted their spa, showcased their services and gave customers an easy way to find and book appointments. The site needed to reflect their luxury pampering treatments. 
• Website • Colour Palette Development •
• Design and build a new website.
• Website to be fully responsive, looking good on mobile and tablet as well as desktop.
• Develop the Grace Hale brand colours from a single colour to a full palette to use on the website.
"I got so much more bang for my buck than I was expecting. The site looks great and I couldn't be happier. I have no hesitation in recommending Helen."
Grace Hale – in Joanna's words
How did you feel before we started working together?
"I was struggling to get a project over the line and time was marching on; I desperately needed someone to ride to the rescue and take over the site build."
How do you feel now the project is finished?
"It's great to see it live and looking great, it looks really professional and does exactly what I needed it to. It's a beautiful site and ready to inform our customers about what we do."
"We're extremely pleased with our updated website. It not only looks great but provides up to date information about all our treatments!."
"Helen is a problem solver and went out of her way to help when we hit any stumbling blocks. She made the process easy and stress-free."
Looking to book a branding or website project?
Tap the buttons below to find out more.
To get tips and advice directly in your inbox, subscribe to our monthly newsletter.
"Oh my goodness, this is like finding solid gold bars! Your newsletter is so helpful and supportive and free! I can't thank you enough."
"If you're not signed up for the B Double E newsletter, then I think you're missing out big time!"
"Brilliant newsletter Helen & Rob, So glad I signed up. Lots of useful stuff and not too techy."
"Thanks so much for this – a really informative and fun read."
You might want to read...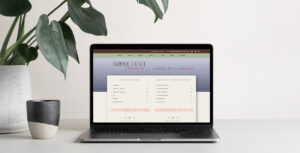 Completely un-prompted, Sophie wrote about her experience of working with...
Read More