Jill Myers Voiceover Website Review and update
Jill has a WIX website but wasn't happy with the way it was functioning or looking. She wanted to improve her site and online presence without the expense of a full website re-build. Helen worked with Jill to review her site, looking at each page for design, SEO,  mobile optimisation and user journey. For the website review, a number of improvement suggestions were given, some Jill was able to work on herself, but she also booked Helen for 1-day website support to complete the more technical and brand aspects of the site.
• Website review • New colour palette • 1-day website support
• website review to compile a list of suggestions for improvement
• advise on a new colour palette scheme an apply it to the site
• advise on SEO improvements
• ensure website is mobile optimised
• add download options for Jill's demos
• setup google business page
• source and add privacy policy and cookie consent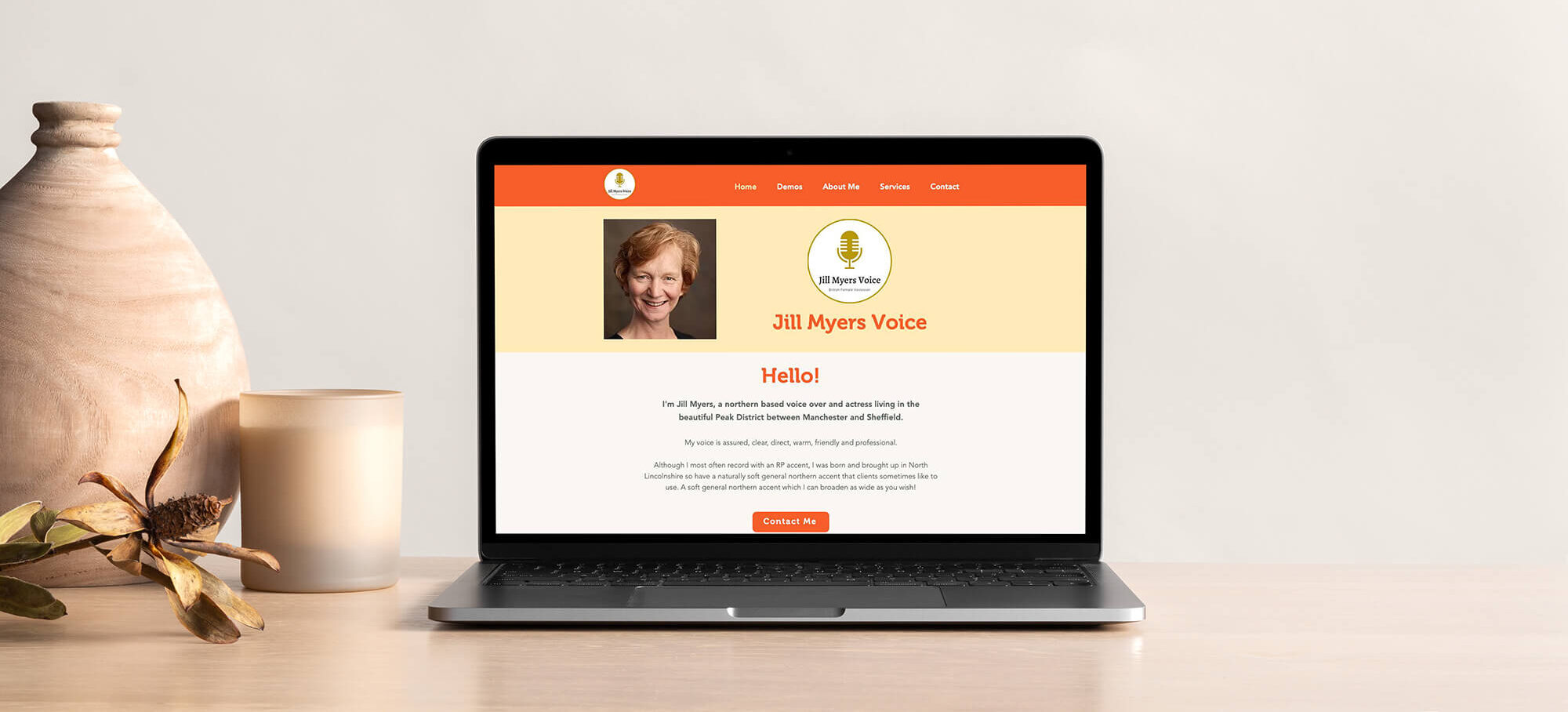 "The look of the website is great. I finally have a website I am happy to send people!"
How did you feel before we started working together?
"I had a very basic Wix website that I had put together. I wasn't confident that it looked 'professional' enough. I didn't actually know specifically what I needed – I needed pointing in the right direction."
How did you feel after the project was finished?
"I loved the web review as it highlighted areas for improvement that I was not aware of. You gave me guidance about SEO keywords and I'm getting to grips with that. The look of the website is great – it has its own identity now."
"I loved the web review as it highlighted areas for improvement that I was not aware of."
What did you like about working together?
"It was an enjoyable collaboration. I understand more about what is needed from my website as a business."
What would you say to someone considering working with me?
"If you know exactly what you want from your website Helen is able to bring that to life. If, like me, you are unsure of what you want then Helen can create something!"
Looking to book a branding or website project?
Tap the buttons below to find out more.
To get tips and advice directly in your inbox, subscribe to our monthly newsletter.
"Oh my goodness, this is like finding solid gold bars! Your newsletter is so helpful and supportive and free! I can't thank you enough."
"If you're not signed up for the B Double E newsletter, then I think you're missing out big time!"
"Brilliant newsletter Helen & Rob, So glad I signed up. Lots of useful stuff and not too techy."
"Thanks so much for this – a really informative and fun read."