Voice coach Tanya Rich wanted to update her voice coaching brand and website RichCraft. She already had a website, but wanted a custom build, and wanted to update her logo. The RichCraft branding needed to align with her existing voiceover brand, but also be recognisable in its own right.
Helen worked with Tanya and her team to strip back her website, suggested a new structure and how to make the most out the of content she had. Service pages had been difficult to read, and contact details were difficult to find, with some sections of the site not working on mobile and tablet devices.
• Brand Identity • Logo • Website •
• Update and refine the existing RichCraft logo. 
• Develop a clear branding personality and strategy
• Develop a new colour palette
• Design and build a new website
• Create comprehensive brand style guideline giving Tanya and her team the resources to use the new branding confidently, effectively and consistently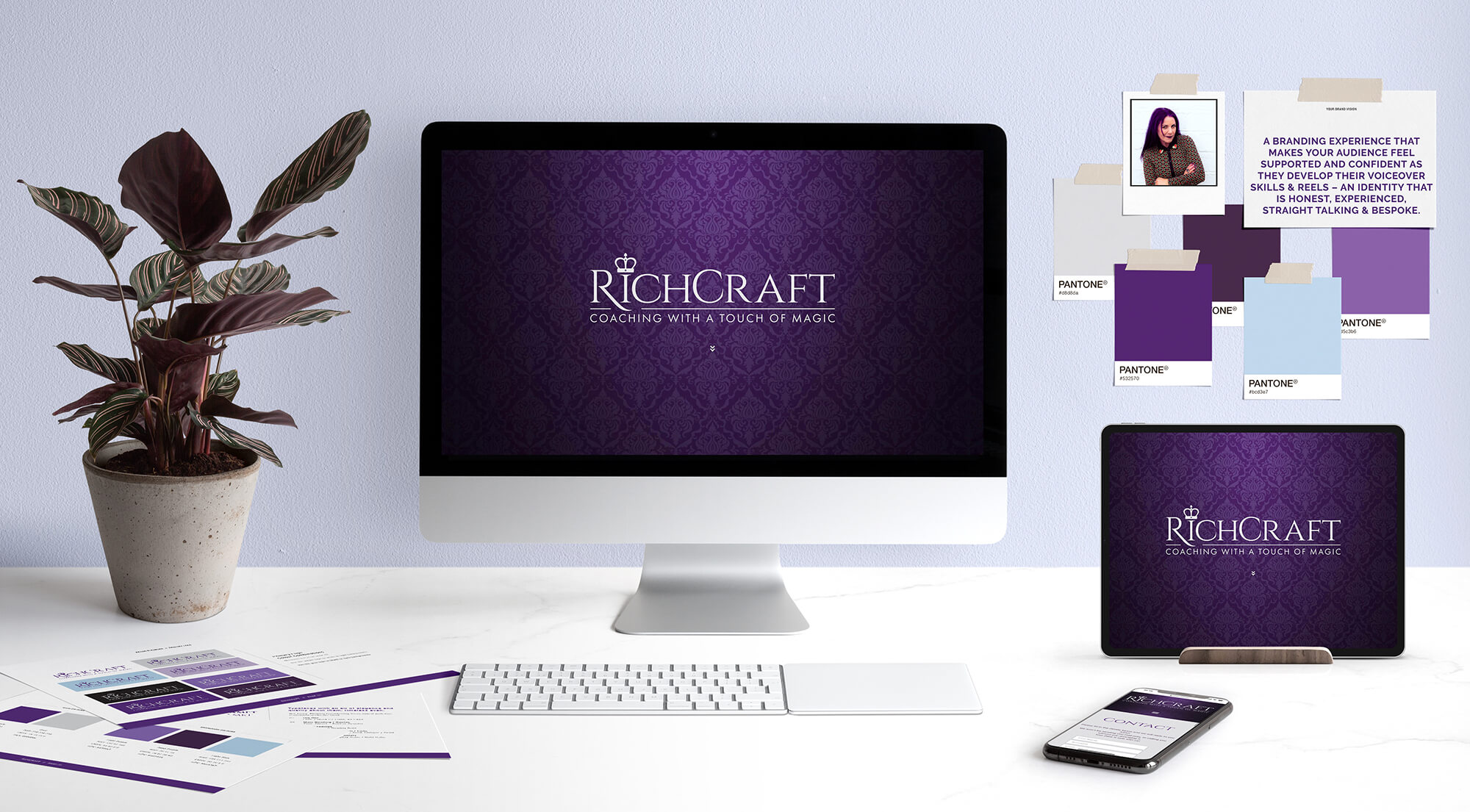 "We have a much improved and super smart web site thanks to branding expert Helen Bee."
"Helen really understands the Voice Industry, and went the extra mile to tie in the branding with my personal VO site."
"If someone wants to really flesh out and develop their brand Helen is the person to go to. She is warm, friendly and knowledgeable."
RichCraft – in Tanya's words
How did you feel before we started working together?
"We had a website that did the job but wasn't sleek and didn't have a strong sense of branding consistency. We wanted something more professional looking that could have more features."
How did you feel after the project was finished?
"We have a much improved and super smart web site! We are particularly happy with the branding kit that we were given at the end and the branding process itself and the depth it went into."
Looking to book a branding or website project?
Tap the buttons below to find out more.
To get tips and advice directly in your inbox, subscribe to our monthly newsletter.
"Oh my goodness, this is like finding solid gold bars! Your newsletter is so helpful and supportive and free! I can't thank you enough."
"If you're not signed up for the B Double E newsletter, then I think you're missing out big time!"
"Brilliant newsletter Helen & Rob, So glad I signed up. Lots of useful stuff and not too techy."
"Thanks so much for this – a really informative and fun read."