Sophie Dean voiceover – brand, logo and website design
Sophie is an established voiceover who works with production companies and directly with clients. She had an existing Squarespace website, but found the platform restrictive and wanted to build a brand that better reflected her. We spent time looking into her perfect clients and developed a brand and website that would best showcase her work.
Branding and logo design • Brand Guidelines • Website Design & Build • Social Media Templates
Create a new brand identity, custom logo, website and social media templates for Sophie.
Discover Sophie's brand vision and identify her target audience
Develop Sophie's brand personality, keywords and attributes and represent this visually
Develop a colour palette to reflect Sophie's brand personality
Provide style guidance for tone-of-voice and photography
Create a bespoke brand pattern
Design and build a website, giving guidance on content, structure and user journey.
Advice on how to write website copy for best SEO results.
Create comprehensive brand style guidelines giving Sophie the resources to use her new branding confidently, effectively and consistently
Design a 2 sets of bespoke social media templates to use across Instagram, Facebook, LinkedIn and Twitter.
Sophie wrote about her experience of working with me on her new branding and website.
"Definitely work with Helen, she takes the time to understand you and your work to produce something special that not only looks great, but ticks all the boxes for the client experience. Nothing is too much for Helen and she is always on hand to answer any queries you have."
How did you feel before we started working together?
"My website was fine and functional but didn't have any personality. It looked like I had made it myself. I wanted a professional looking site and had never given much thought to my branding. Squarespace was very restrictive and I couldn't do a lot of the things I wanted to do with the site, also expensive."
How did you feel after the project was finished?
"I am overjoyed with how great it looks, it's professional and clear but with tonnes of personality. The site gets across exactly what you set out to achieve with the initial branding consultation. They say you don't have to love your website as it's not for you, but I absolutely do!"
"Helen really understood the message we were trying to get across. She gave me loads of options to choose from - from logos to layouts - so I would be totally happy with the finished product."
Comment's from Sophie's clients
"I just wanted to say your new website is off the hook good!"
"A previous client did put me forward to their client for a job. He didn't want a custom demo as he said: 'your website is awesome, I'll just put that forward'."
"You were so helpful with any queries and none of my requests were too much, you always found a solution."
Looking to book a branding or website project?
Tap the buttons below to find out more.
To get tips and advice directly in your inbox, subscribe to our monthly newsletter.
"Oh my goodness, this is like finding solid gold bars! Your newsletter is so helpful and supportive and free! I can't thank you enough."
"If you're not signed up for the B Double E newsletter, then I think you're missing out big time!"
"Brilliant newsletter Helen & Rob, So glad I signed up. Lots of useful stuff and not too techy."
"Thanks so much for this – a really informative and fun read."
You might want to read...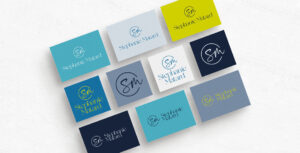 Read about what prompted Stephanie to start her branding project...
Read More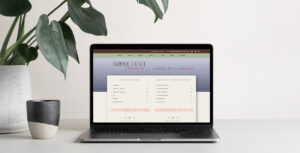 Completely un-prompted, Sophie wrote about her experience of working with...
Read More