You've spent hours crafting your copy, had the photo shoot, new demos are proudly sat ready to be heard and downloaded. Your contact details are clear, testimonials are added and you've started writing a blog.
But now what?
It's easy to spend hours building your website. Regardless of whether you do it yourself or hire someone to build for you, it's a time consuming thing. But once you've spent all those building hours, days, weeks…
How do you make sure your voiceover website gets picked up by search engines?
After all – the purpose of having a website is that people visit it. Look at what you do. Listen and download your demos. And then book you to voice.
These are a few steps that I recommend everyone with a website does. There are more, and I'll go over other things in future blogs, but these are what I feel to be the 3 most important. And best of all – they are all FREE! Yay!
So here goes…
3 steps every voiceover should make once their website is live
---
1. Claim your google business profile
What is a Google Business Profile
Also known as your google business page, these are free to set up and a great way to give your website and business an all important boost for SEO (Search Engine Optimisation).
Why set up a Google Business Profile?
A whopping 92% of all search queries* worldwide go through Google. So it makes complete sense that to help people find your website through searches, listing it on Google (the place people search for things) will increase the chances of it being found.
And also, it's FREE.
Anyone who has hear me on a podcast, at a conference or has been reading my blogs for a while will have heard me prattle on about this one time and time again. I keep going on about it because so many voice artists don't have a Google Business Profile, and I really think you should! If you need more convincing, then read my blog Why Every Voiceover Should Have a Google Business Page.
Or you can set one up now, by following these instructions…
How to create a Google Business Profile?
This is where to start: business.google.com/create
You'll be guided through a few questions and you'll be able to claim your google profile.
Google will verify your business – checking that you actually exist. This step can take a while (sometimes a few days/weeks), but it's worth the wait.
TIP: You DO need to register your profile with an address, but you can hide that address from public view. So no need to worry about random people knowing where you live. OR – do what we do and use a registered address (which also isn't our house, so if you do peak on street maps it's not our house – it's our accountants').
---
2. Activate Google Search Console
What is Google Search Console (GSC)?
Search Console acts like a bridge between search engine results and your website. You'll be able to see the phrases and words people are using to find your website, check for mobile compatibility, locate errors and see if your site has been hacked.
Why use Google Search Console?
When you get a new site you need to tell Google that it exists. How else will it know you're there? GSC is one of the most powerful SEO tools out there, so it's absolutely worth your time getting to grips with it.
How to set up Google Search Console
Google has a rather long-winded, not very user friendly guide here. But it is honestly way more simple than they make it seem.
Sign into your GSC account here (you need a google account to do this)
Enter your website domain to 'Add a Property' (see the image – top left corner which then opens up a popup window – you don't need the http://www. part).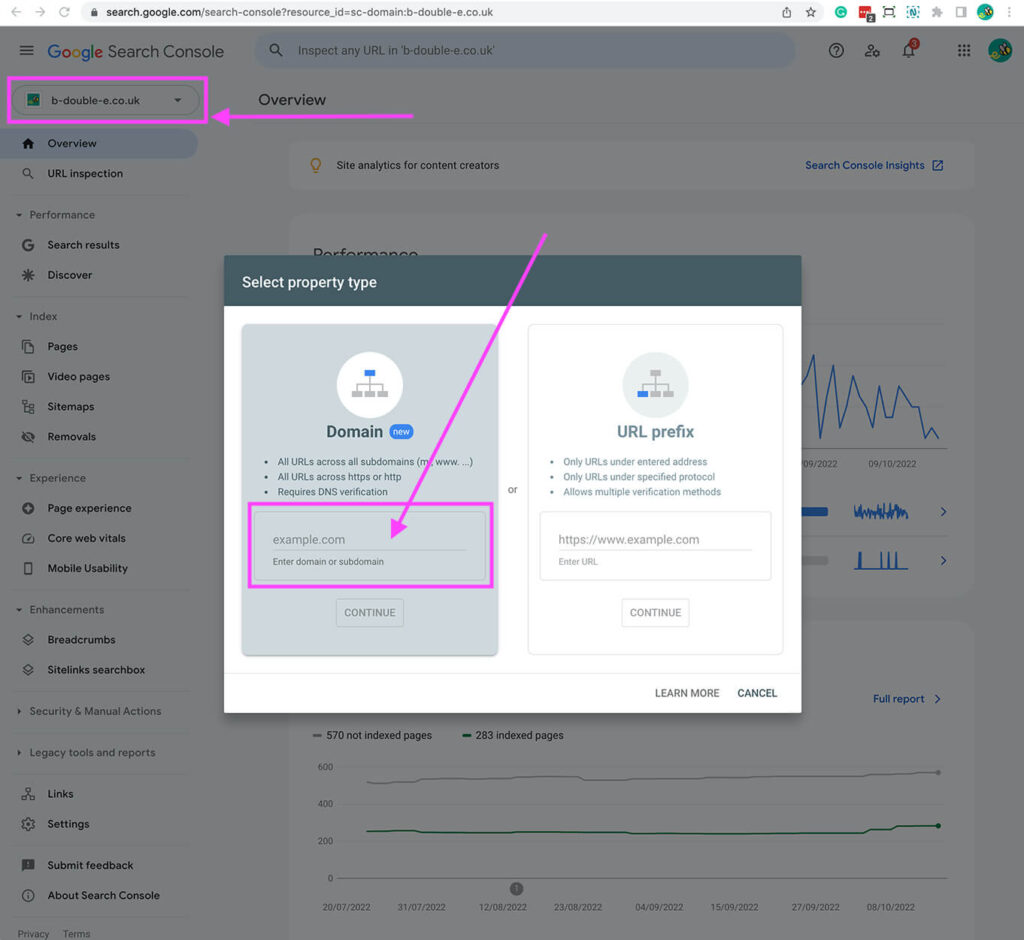 Pop your website address into the 'domain' where it says 'example.com' (see above image)
After a few seconds, another popup will open so you can verify your website
NOTE – this bit gets a little more techy, but this is an essential step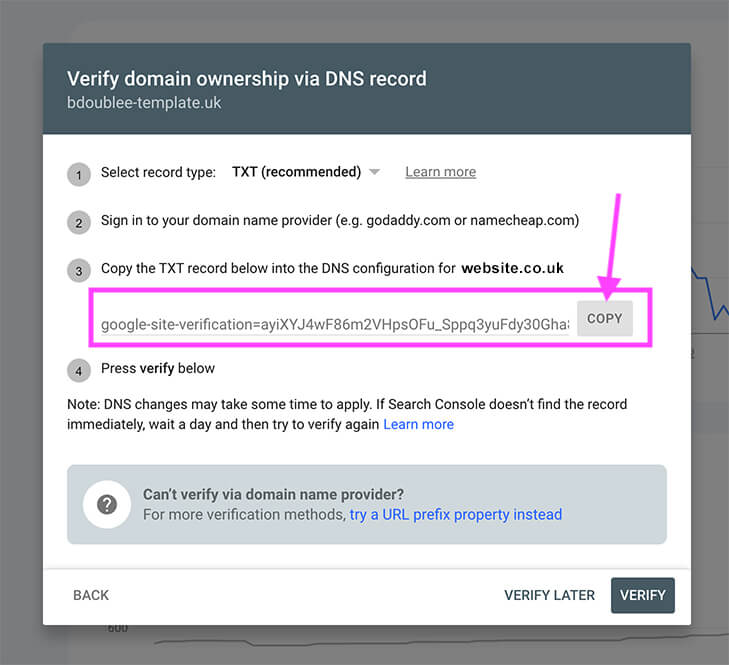 Copy the TXT record (see image)
Go to your domain provider/registrar – log into your account and either:

Follow their instructions on how to add a TXT record to your domain

Create a support ticket and ask your domain provider to add the copied TXT record to your domain. Any decent provider will help you do this (some will do it for you).

Then go back to Google and click 'VERIFY'.
Sometimes it can take a few hours for the TXT record to process on your site, so if it doesn't work straight away, leave it for 24 hours and try again.
---
3. Get your site crawled
What is a site crawl?
Doing this tells google you have a site. It will send its bots to hunt across your website and update its records. Basically – to allow your site to show up in search results – you have to let Google know your website exists.
Why do it?
This keeps search results up to date, although it can take a few weeks to process, if you don't you run the risk of not showing up in search results. Basically – if you want people to find your site you need to do this!
How to ask Google to crawl your website
NOTE – this HAS to be done after you've verified your site following the steps above.
Here's Google's slightly long-winded YouTube how-to guide.
Go to your GSC account here
On the left, select 'URL inspection' (see image below)
Type your website address into the top bar (see image below) & hit return
Wait for Google to check your URL
Then click the "Request indexing" button (see image below)

This stage can take anywhere from a few days to a few weeks to process. Google unhelpfully doesn't tell you how long it will take. BUT, if there are any issues with your site, Google will (eventually) let you know.
It's worth doing this last step every time you make a large change to the content of your site. Add a new service page – get google to crawl that page.
---
Don't get put off by the tech!
Please DO NOT be put off by the technical jargon you've just read. You'll be able to get support adding the TXT record to your domain. If you don't get the support I'd suggest moving to a provider who will support you (I can highly recommend 34sp.com).
It's probably also worth a little note here to say that anyone who works with me on my bespoke website packages will get 1-2-1 support with the above steps. I'm a firm believer that there is little point in hiring someone to help you build a website who then doesn't help you with these last all-important steps. After all – what is the point of investing in a beautiful new website if no one ever finds it?!
*Google search queries, August 2022. Sourced from https://www.oberlo.com/statistics/search-engine-market-share