Helen Bee specialises in voiceover branding and website design. She has worked on a wide variety of design projects with lots of clients over the years. Here are just a few of her favourites…
Stephanie Matard Voiceover
Branding & Logo Design
Eilidh Beaton Voice Actor
Website Review • New Colour Palette • Design Update
Crawley Voice Studio
Branding & Logo Design • Social Templates
André Refig Voiceover & Actor
Branding & Logo Design
Mélusine Lenoir Voiceover
Branding & Logo Design • Business Stationery
Jill Myers Voiceover
Website Review • New Colour Palette • Design Update
Samantha Boffin Voiceover & Podcaster
Website Design & Build
Abbe Opher Voiceover & Narrator
Branding & Logo Design • Website Design & Build • Business Stationery • Social Media Templates
The Voiceover Chap
Branding & Logo Design • Website Design & Build • Business Stationery
RichCraft Voiceover Coach
Branding & Logo Design • Website Design & Build
Jill Kenton Voiceover
Social Media Templates & Banners
Grace Hale Spa
Website Design & Build
Kate Whelan Voiceover
Branding & Logo Refresh • Business Stationery • Social Media Templates • Email Signature
Career Practic Coach
Branding Design • Logo Refresh • Website Design & Build • Social Media Templates & Bammers
Total Fitness
Social Media Campaign • Leaflet Design
Party Lite
Email Design • Social Media Posts
Billy Elliot The Musical
Tour Promotion
Addams Family The Musical
Tour Promotion
Party Lite 'With Love'
Social Media Posts • Email Design • Brochure Design
Buttercream Dreams
Branding & Logo Design • Website Design & Build • Business Stationery
Wylie Connects
Branding & Logo Design • Business Stationery
Fresco Photography
Branding & Logo Design • Business Stationery
NES Recruitment
Branding & Logo Design • Business Stationery
Hardy & Brown
Business Stationery
"Thanks so much for this. It's really inspiring! I think my brand personality is bob on – perfect. It really captures what I'm trying to achieve and capture with my website and branding."
"Big shout out to Helen's amazing branding work… Can't recommend her enough. I was delighted with the result!"
"Helen really understands the voice industry and went the extra mile. if someone needs help developing their brand Helen is the person they should go to."
"Helen is a delight to work with. She is very straightforward and down-to-earth, and she manages the website development process extremely well, making it both simple and enjoyable. I recommend her without reservation."
Thinking about starting your own branding or website project?
You might want to read...
Your showreels are probably the most important marketing tool you...
Read More
What is SEO and why should you you care? Helen...
Read More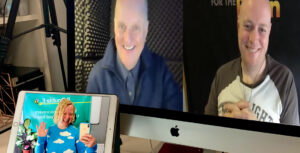 There are many and various awards open to voiceovers across...
Read More