Tools I use nearly every day for design, workflow, productivity and websites that help me stay organised, be productive, save time and give more confidence to run my business. I hope you find them useful too.
---
I'm not a natural planner or goal setter. During a recent workshop I attended, I think I realised why.
Before going self-employed in 2014 I'd been made redundant several times – one of the 'joys' of working with advertising agencies – if they lose a big client, they make redundancies. I got used to losing my job with next to no notice. This is also how I became self-employed. I unexpectedly lost a job and had no choice but to freelance to bring home some cash. My first few years of self-employment were as a freelance graphic designer – sometimes I would find out about a job a couple of hours before it started. Equally, they disappeared that fast on occasion too. You're a voiceover – I know you understand how quickly jobs can come in or vanish. Don't get me started on 'pencilled' jobs… "We don't think we need you tomorrow." … ARGH!
One thing I do know though (and I now realise is a positive thing) is that this last-minute work style doesn't really worry me that much. The first few redundancies did, but I got more used to it. Going freelance felt more stable than being employed. I thrive on variety. I love that every week is different. I enjoy the unpredictability of it all.
However, this does mean that planning and goal-setting do not come naturally. And I'm sure I'm not the only one.
I am not, however, unorganised – if anything I'm a little over-the-top with this bit. For many years I was a studio manager – both employed and in freelance roles. I've a natural ability to put in workflow systems that save time, make tracking projects easier and are simple to use. My biggest ever project was introducing a work-flow system for a well-known pet store to manage their packaging and in-store marketing for their staff and suppliers. I helped test the new system, wrote the training manuals and trained over 1,000 people across the globe to use it. Then lost my job when it was all complete. This bit wasn't so great – silly me had made my role un-needed (doh!) but it was my start to self-employment so not all bad in the end.
My recent purchase of a VO Social Career Planner has given me an incentive to work on my goal-setting skills. If you have any tips for that – please send them my way. So, even though I'm utterly hopeless at setting goals – I can hopefully offer you some helpful tips and give you some resources to help get you a little more organised.
---
Resources…
Design tools
Headliner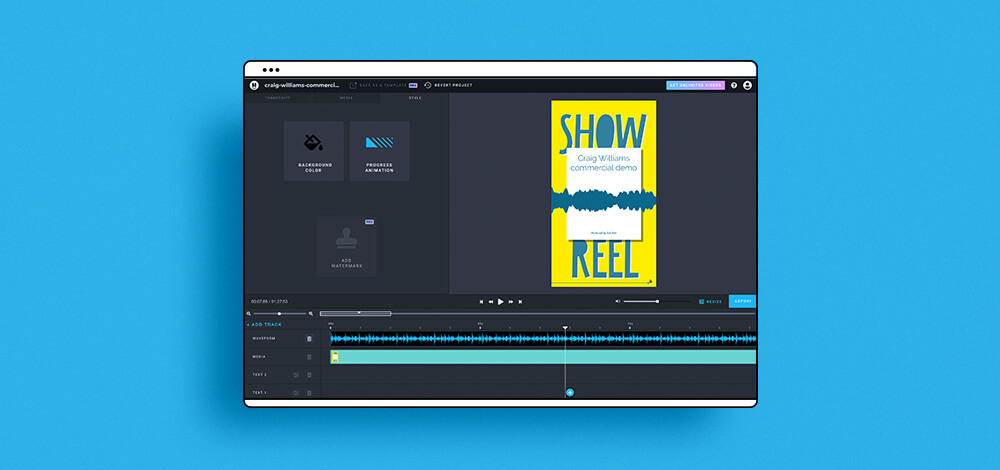 Website here
Used for: making audiograms (like the showreel one below)
Price: Free and subscription options. I use the free version.
A fab tool that gives you the ability to visually showcase your demo reels – perfect for your social media promo. There are 3 pre-set audiogram sizes:
Portrait – for Instagram grid or stories
Landscape – for Twitter or YouTube
Square – for Instagram grid or Facebook
Easy to use – all you need is your audio file and a photo or background image (made even better if you get creative with the background image using Canva (see below) or similar first). Tania from Women In VO made this very handy how-to guide
Use the link above to get a 2-week free trial of the Pro version. I'll get a free week if you sign up.
---
Canva
Website here
Used for: Design
Price: Free and subscription options. I use the free version.
This is a fantastic tool for anyone wanting to create their own designs. There are 1000s of templates for a huge range of uses – social media posts and banners, video backgrounds, presentations, posters, leaflets, business cards – the list goes on.
Paid-for features include access to a huge stock image library and premium animated elements. Just about everything can be customised, so it's fairly simple to make pre-made templates your own by changing colours to match your brand and adding your own logo and photos. There are loads of how-to videos on YouTube too.
I use the free version because I create a lot of my graphics in InDesign, Illustrator and Photoshop – but I do still use Canva too. I find the desktop version easier to use than the mobile app.
---
Productivity, planning and workflow
Trello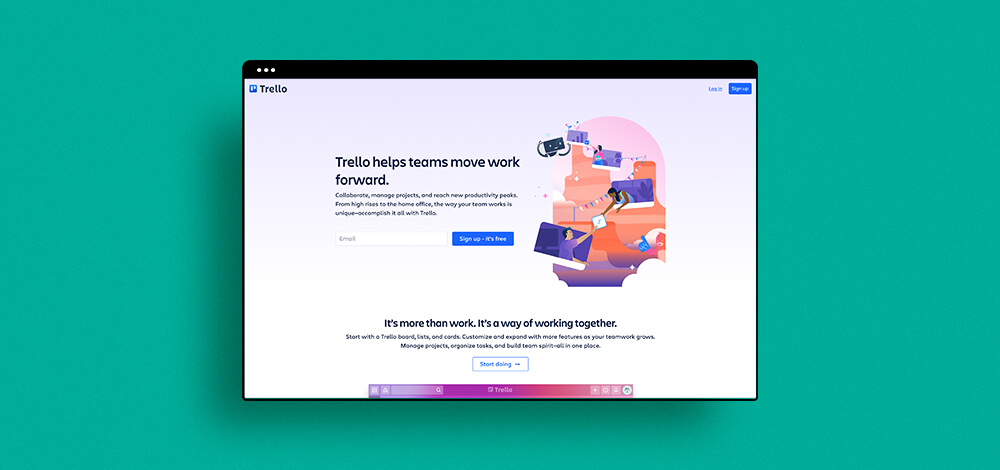 Website here
Used for: Workflow and project management
Price: Free and subscription options – I use the free version.
I use Trello to keep track of individual projects, plan out my work week, add reminders to tasks and plan things (like blog topics, newsletters, new services etc). You can create a card for each client, and within that card create checklists, notes, dated reminders – all sorts of things. Trello has been essential in keeping me organised. I know where each of my clients' projects is up to, when potential clients contact me, if I need to chase anything or remember to do something. It's a great digital dumping area for ideas that – because they're in 1 place – I don't forget about or lose.
---
Planoly
Website here
Used for: planning and scheduling your Instagram and social media content
Price: Free and subscription options. I use the free version.
I have a visual brain –a good thing considering what I do for a living! Planoly is great for anyone who wants to see what their Insta grid will look like BEFORE they post. I do like a nice-looking Insta grid, but I'm not pedantic about it – I like the ability to change my mind with what I'm posting too. This app has really helped me plan out our social posts. I can tell if I've been posting too much (or too little) about a specific topic or service. It's easy to see if I've not posted a photo of me or Rob for a while. Every so often I like to post an image that goes across several of the grid squares, so it lets me check those align with previous ones too. I've also started pre-planning a few posts per week or month, meaning I've got fewer excuses not to post. It's definitely helped me get more organised.
If you sign up for a paid plan using the link above, I'll get $10 credit.
---
Calendly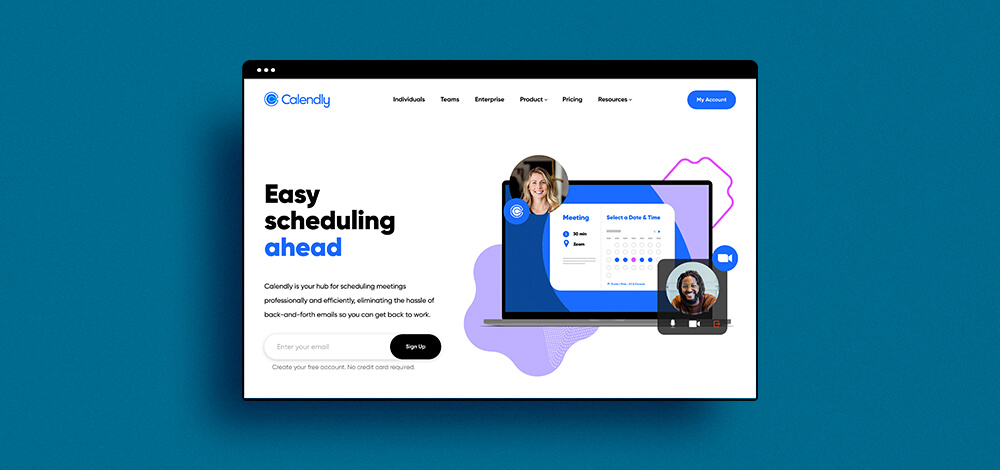 Website here
Used for: Making and managing appointments
Price: Free and subscription options. I use a subscription version.
This simple little app has made a big reduction to my admin time. Before using it, setting up a client meeting could take 5 or 6 back and forward emails trying to work out when we both had availability. This has allowed me to create different meeting links for different purposes – such as half-hour chats for new client enquiries, 1.5 hour bookings for website training sessions and more. I can decide how many meetings I want to allow per day, what day and hours they can happen, it automatically sets up the zoom meeting and sends that link to my client and it auto-sends reminder emails. Not sure I could survive without it now!
---
Equity contract template
Website here
Used for: Contract template for performers and creative workers
Price: Free, but you need to be an Equity member to access it.
I have always had a fear of contracts and the legal sides of running our business – it's something I feel overwhelmed by, I don't understand the language and the high prices to actually hire a solicitor to help have been beyond our budget. I'll be honest and say that I haven't seen or used this template. Why? I'm not a performer, so not an Equity member – therefore I can't access it. I was also fortunate enough to secure some free business coaching this year which included working with a solicitor – she custom-wrote the terms and conditions we now use in our contracts. So I do use a contract, and I do believe that everyone else should too.
---
HelloSign
Website here
Used for: Sending and signing contracts
Price: Free and subscription options. I use a mix of the free and paid.
HelloSign allows you to electronically request and add legally binding signatures to any document. Any of my brand or web clients and anyone who had a Studio Tickling Tour visit will have received a contract from us through HelloSign. It's very easy to use, I love the flexibility of being able to upgrade or downgrade each month if needed, hassle-free. Perfect for sending out those contracts you've created from the Equity template mentioned above.
Use the link above to get 1 additional free document sign for us both.
---
Website tools
TinyJPG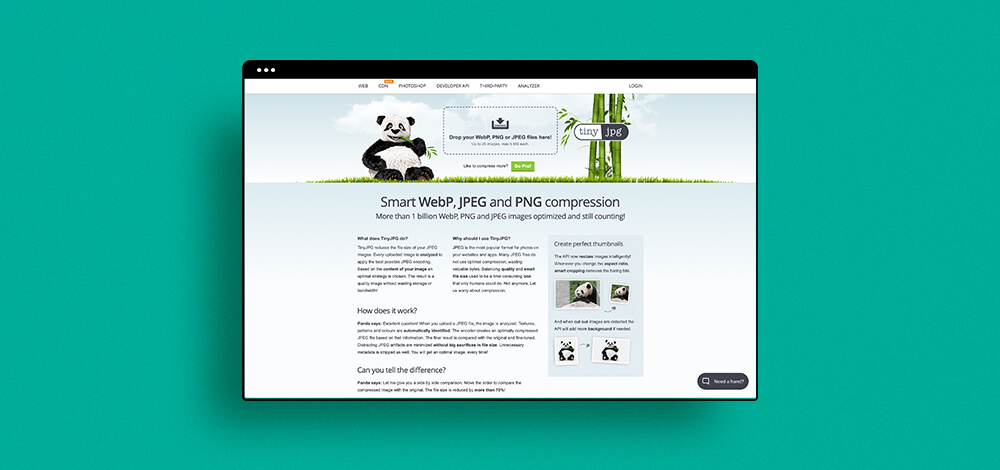 Website here
Used for: Image compression
Price: Free
I've mentioned this one in a few previous blogs:
This powerful and FREE tool makes your website images smaller without losing any quality. This means a faster website, which is better for user experience and boosts your SEO too. Basically, drop each and every image on your website through this site before you add them and you'll have a much faster site. It usually reduces the file size by around 30% to 80%. A huge saving. So what's not to like?
---
34SP.com
Website here
Used for: Hosting, domains and emails
Price: Various packages available.
We've been using 34SP for quite a while now. They're based in Manchester, have amazing customer service and as an added bonus, are eco-conscious too. To give you an idea of just how good their customer service is – I had a client website go down just as we were about to launch it. It vanished – the URL didn't bring anything up and more worryingly I couldn't log into the WordPress dashboard at all. I phoned them during the first full lockdown on a Sunday morning in a little bit of a panic. Within a few seconds they'd answered my call (a real human, not an automated bot). Within 5 minutes they had something temporarily back online and within 1 hour they'd phoned me back to say that the full site was back to normal and working as it should. Compare this to my previous supplier not even having a phone number and a help desk request taking an average of 7 working days before I even got a response – it's easy to see why I'll sing the praises of 34SP. They've also stopped loads of spam getting to us.
If you do sign up – put 'b-double-e.co.uk' into the 'recommended by a friend' box and we'll both get a month free hosting too. WHOOP!
---
Google's 200 Ranking Factors for SEO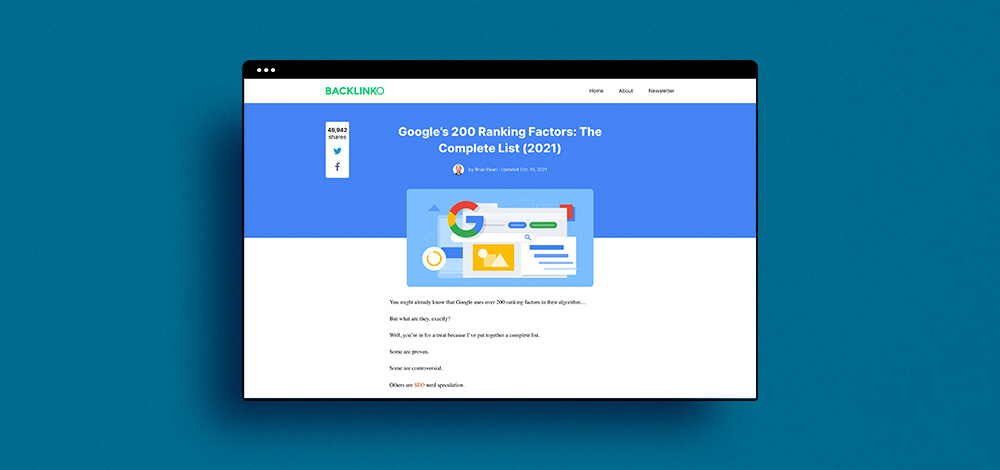 Website here
Used for: Improving your SEO understanding.
Price: Free.
If you're interested in learning more about SEO (Search Engine Optimisation) and how to improve how your website shows on search engines, this is a great starting point. Yes, it's a damn long list. No, it doesn't cover everything. Yes, there are some techy and geeky bits on this list – but NOT everything is. Some things are simple-to-make changes. It's well worth a read.
---
Broken link checker
Website here
Used for: Checking you have no broken links on your website.
Price: Free.
A quick and easy-to-use tool. Stick your own website address in the box and it will list any links on your website that are broken. What are broken links? A link that should link to something but doesn't. It could be for a number of reasons, old websites that no-longer exist, someone changed the URL, a social account that doesn't exist. Why do you need to check? Two reasons:
Because search engines will rank your site lower for SEO if it has broken links
Broken links really annoy your site visitors and that will potentially lose you work.
As I was writing this, I used the broken link checker on our own site – there were 4. 1 was a URL that had been changed by the author, 1 site no longer exists (unfortunately the company has closed) and 2 links were wrong due to my error.
It's quick, simple and should be something we all use every few months.
---
Podcasts
The Money Makers Podcast with Ray Dodd
Listen here… Money Makers Podcast
This is a fairly recent find for me. I first found out about Ray through her Instagram and last week I went on her 'Anti Goals Workshop' (which sparked inspiration for this blog). Her podcast is such an incredibly open, honest and refreshing look at what most of us fear to talk about – money. A mix of her talking and interviews, she smashes the capitalistic corporate stereotypes that are so common when we think of earning money. It's an empowering listen and I highly recommend it.
My favourite episodes so far…
Episode 40 – Why I'm no longer using the word 'mindset'
Episode 27 – Confidence in your niche with no apologies
---
The Voiceover Social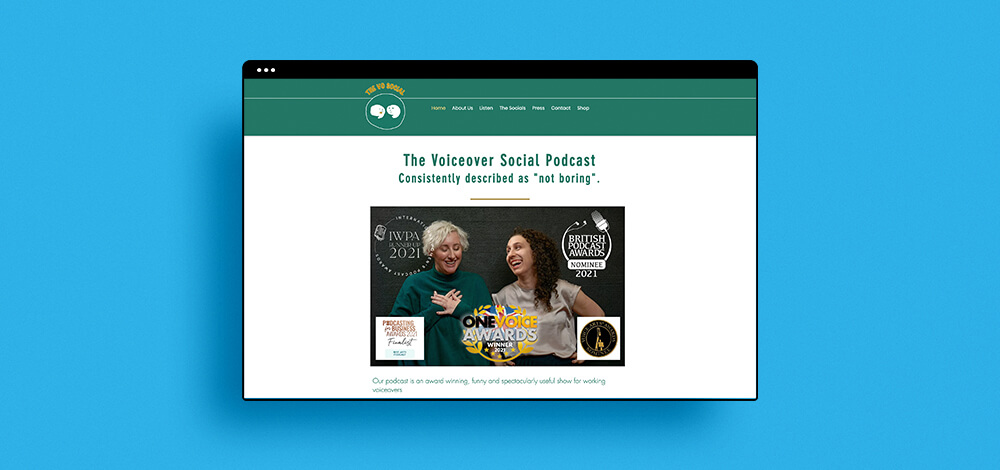 Listen here… The VO Social Podcast
Easily my favourite podcast and one I'm sure most of you reading this will know about. If you don't, stop reading this and go listen.
I really mean it – go listen now…
Hosted by Leah Marks and Nic Redman – this is one that every single person within the voice industry should be listening to. Nic and Leah live and breathe the voice over industry – they know what they're talking about and they're not afraid to tackle difficult topics.
My favourite episodes so far…
Episode 32 – The AI voice
Episode 39 – Sex noises and getting far, far out of your comfort zone
---
It's over to you…
So there you have it – lots of tools I hope you find useful and will hopefully give you more time too. I'd love to know if you think I've missed anything off this list – equally if you've had a bad experience using any of the above. Either way, you can email me to let me know.