• Brand Identity • Logo Refresh • Website • Social Media Templates and Banners •
To create a brand identity that reflected Charlotte's personality and coaching style.
Identify Career Practic's brand personality and values.
Update the Career Practic logo, bringing in the new colour palette.
To create a beautiful and functional website.
Produce a series of social templates and banners to ensure consistent branding.
Career Practic – in Charlotte's words
How did you feel before we started working together?
"I wanted a more professional-looking website so I could better promote myself via social media. I had reached the limit of my technical expertise. I didn't know how best to go about updating my existing website. And I knew that even if I did try doing a DIY job again, it would probably take me far too long.
Although I had considered various options, I didn't feel confident about how to progress."
"The branding exploration process was really detailed (in a good way) and the brand personality Helen came up with felt remarkably accurate."
"Helen is a delight to work with. She is very straightforward and down-to-earth, and she manages the website development process extremely well, making it both simple and enjoyable. I recommend her without reservation."
Career Practic – in Charlotte's words
How do you feel now the project is completed?
"I'm delighted! And I have more self-confidence. The compliments from colleagues when they saw the new website are great! They've said my new website and branding was nice to look at, easy to read and navigate, and that it captured my personality very well, and that it felt both warm and professional."
"I've just gone through the brand style guidelines and I'm amazed at how you've managed to pull this together. It's incredibly detailed and comprehensive – I love it!."
Looking to book a branding or website project?
Tap the buttons below to find out more.
To get tips and advice directly in your inbox, subscribe to our monthly newsletter.
"Oh my goodness, this is like finding solid gold bars! Your newsletter is so helpful and supportive and free! I can't thank you enough."
"If you're not signed up for the B Double E newsletter, then I think you're missing out big time!"
"Brilliant newsletter Helen & Rob, So glad I signed up. Lots of useful stuff and not too techy."
"Thanks so much for this – a really informative and fun read."
You might want to read...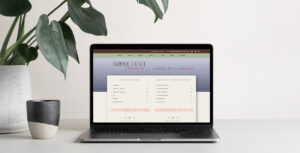 Completely un-prompted, Sophie wrote about her experience of working with...
Read More