It's an often-asked question when a voice artist is planning their website "What should I include on my site?".
These ten tips will not only give potential clients the information they're looking for but also show how they can also improve your search ranking (SEO) and ensure your website complies with legal requirements.
---
1. Your Name
This sounds obvious but it's really important that people (and search engines) know who you are and what your name is. This is especially important if you use a business name that isn't your name or a URL like bestvoiceover.com.
Make sure you use your name consistently across all your public profiles and platforms too. It's really confusing for clients if your website has a different name to your spotlight profile, LinkedIn page or Twitter profile. And it makes you harder to find in searches.
TIP: If you don't use your name as your social handle (like us), make sure your name is in the profile description so people know who they're talking to (again, like us – see below).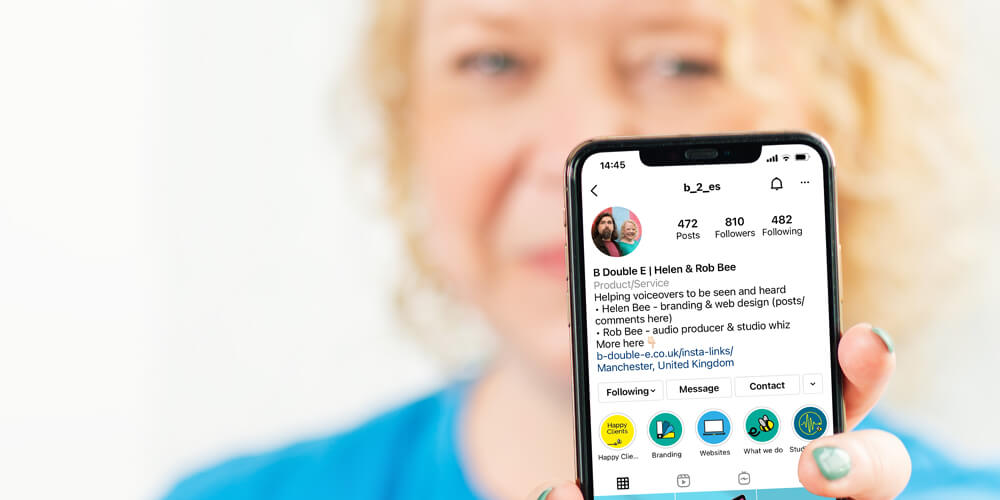 ---
2. Demos
These should be easy to find, be playable and downloadable. Make sure the file name has your name and demo title in it too (this helps your clients and search engines).
TIP: How you name your demo file helps with SEO too – number 6 on my SEO blog shows you how to name files to help clients and get that SEO boost.
ANOTHER TIP: And here's some handy advice from Rob about how to prepare for showreel recording.
---
3. Contact Details
Make contacting you easy. Contact forms are great to have but include a direct email address and phone number too. It might be a client with an urgent request, or maybe someone needs to pass your contact details on to someone else. In these circumstances, a contact form isn't helpful. Some people prefer to have a full email trail, which you don't get with a contact form. Sometimes using a contact form is a preferred option. And that's the point. Give people the choice to contact you how they want to.
These can be helpful to include on a contact page too:
Let people know how your studio can connect – if you use Source Elements, Cleanfeed etc, let people know.
It's the perfect place to link to your Spotlight profile and mention any professional organisations you're a member of (like Equity).
Link to any social platforms you're on too.
If you want to contact us you can do so here (in lots of different ways).
---
4. SSL Certificate
If you have one, your website will have a little padlock icon before the URL. These help keep your site secure (for you and your visitors). Importantly, search engines avoid indexing and showing sites without an SSL in their results and some browsers won't open websites that don't have an SSL.
Any good hosting provider will include an SSL. If they don't, it will be available as an add-on. Get one.
---
5. What You Do
Another obvious one, but I'm talking about more than just saying, "I'm a voiceover". Be specific – state all the areas of voice work you specialise in. This also helps people find you through search engines (yep, I'm talking about SEO again). Talk about the add-on services you offer too. If you provide free sample demos, tell people. If you can provide fully produced audio, tell people. How else will clients know how you can help them?
---
6. Voice Profile
Yes, your demos show what your voice sounds like, but adding a voice profile helps search engines find you too. Include things like pitch, tone, accent/s, style etc. (and yep, again this is a good SEO boost).
---
7. Your Location
You don't always need to include a full postal address*, but including a country and region really does help. I know a lot of voice work can be done globally, but it helps if people know where you're based, especially if someone is looking to cast you for an in-person recording. If you're willing and able to travel to studios in certain cities, then let people know that too.
*Some businesses (if you're LTD for example) are legally obliged to show their registered address on their website.
---
8. Social Media Accounts
Social accounts are a great way to promote what you do BUT make sure they are professional, public accounts – NOT personal profiles (for example your Facebook profile or a hidden Instagram account). And make sure you only link to active relevant accounts. No potential client needs to see a feed full of nothing other than your cat. Equally, linking to a Twitter account that you've not used in 9 months gives a negative impression.
---
9. Your Photo
Your photo doesn't need to be front and centre of your home page, but people are more likely to hire you if they feel like they know you and knowing what you look like helps that. Just make sure it's up-to-date and good quality! A profile photo of you when you were 20 can come across as deceptive if you're actually 45.
Formal headshots aren't always the best style of photo to use. It's about your photo representing you and your branding – it's not just about it looking like you. We use informal shots on our website because we work in a relaxed way. Formal headshots don't suit us or our brand (and it was difficult enough getting Rob to the 'relaxed' shoot!)
TIP: For ideas on how to plan a photoshoot, image size/quality and more, read my photography guide blog.
---
10. Legally Required Information
Depending on where in the world you provide voice over services for, you may be legally required to include information like a cookies popup and/or privacy policy. Both are required by GDPR in the UK and EU, and California now has the CCPA (The California Consumer Privacy Act).
Laws are constantly updating and changing, so this is something to keep an eye on. And yes, it's a really dull subject and yes, it can be really confusing. But it's really, really important and it's your responsibility to get it right.
TIP: I've written a blog (HERE) with advice and links to templates so you comply with UK & EU cookie & privacy advice.
---
And there you have it – 10 things that make a great voice over website, boosts your SEO and helps your clients find information about you and the services you offer.
If you'd like some help and advice on how to improve your website and make sure all 10 things are included on your website, Helen offers website reviews that can be done for any existing website.