In January this year I wrote 'a month in the life' as a blog as I hoped it would be interesting. I think it's time to do it again – especially given the year we've had and the changes that it's bringing to everyone's work life.
---
September 2020
The month began for me with a job producing the prompts for a new IVR system for a corporate client of mine. This client is a telecoms solutions provider, and when they install a new IVR system for a company it can be quite a big job. The initial prompts for this system took a couple of days to complete – partly because of the size of the job, but also because I also had a couple of Skype sessions with clients and my usual work for Gravy For The Brain to complete alongside the IVR work.
Over the course of the month I've had a bigger than usual number of Skype and Zoom calls with clients coaching them in audio production, or advising them on how to set up their studios and get the acoustics right. As I ended up with a few big projects during September these have provided a nice varietal counterpoint to the bigger projects, which can sometimes feel a bit monotonous.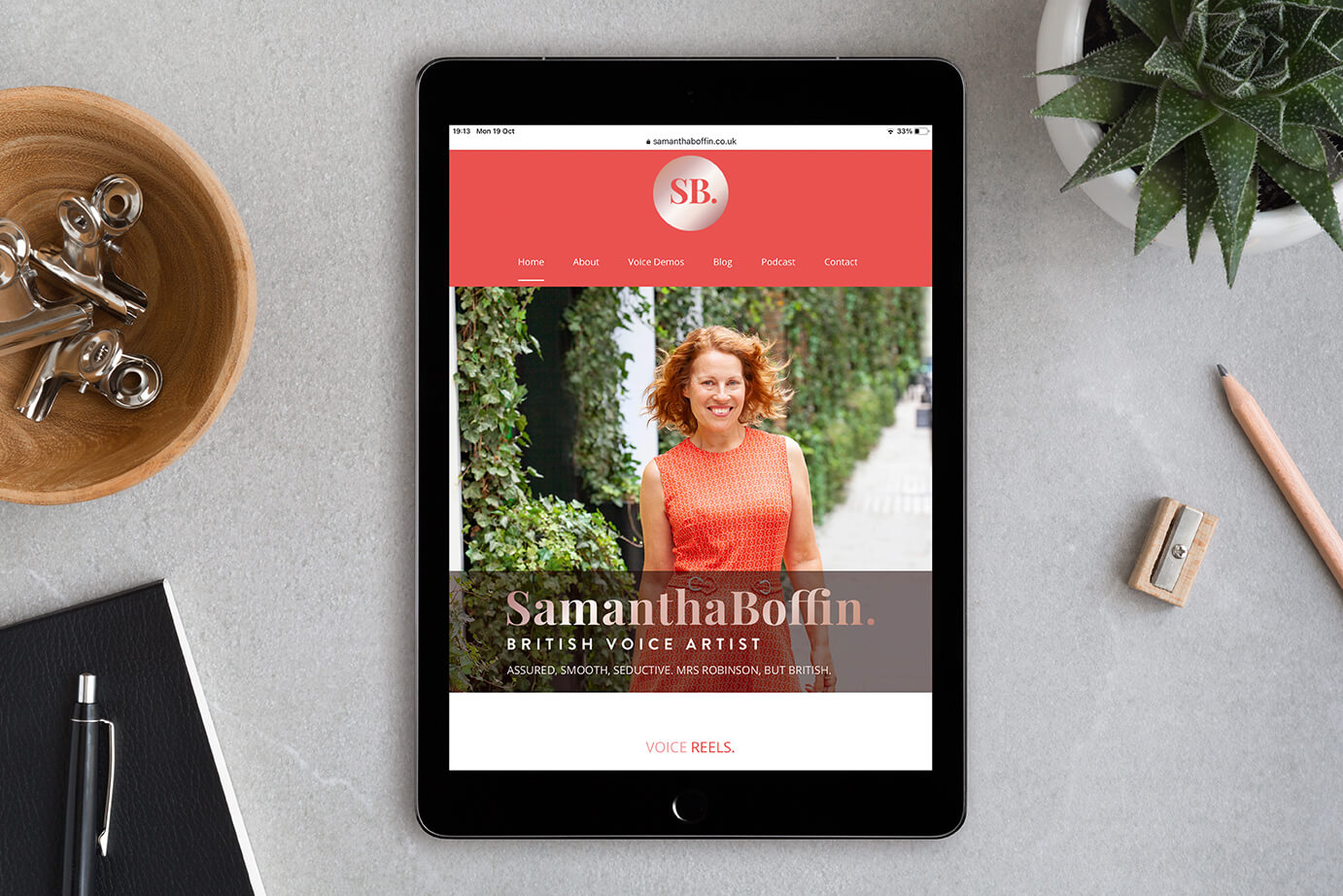 Helen continued her work with her clients, and during the month she launched a website for a local beauty salon as well as continuing to work with 4 VOs who are at different stages of their branding projects. She also completed a website revamp for Sam Boffin, changing the layout from a 1 page site to multiple pages, and creating blog and podcast sections to help her launch her new podcast 'Talking Creative'.
The month ended for her with her Mac having to go for an emergency repair job, so she was reduced from working on a 27" iMac monitor to her laptop's 13" monitor. This did unfortunately hold up elements of some of the jobs she had on, but she only swore a modest amount, and her Mac is back up and running now and the problems it had have been fixed.
---
Freelancing
Freelancing is something both Helen and I do from time to time. Obviously since March that's been knocked on the head (I have done a small number of jobs for my freelancing clients, but they've been done from my studio). But as the creative industries start to figure out how this new normal is going to work in the longer term, September saw us both leave the house and go to client's studios for a few days.
Helen went into Manchester City Centre, and I visited studios in Media City and Castlefield. Seeing how these production studios are adapting to an even greater level of remote working, and adopting new technologies and new work practices is a bit scary and hopeful in equal measures.
I think it's fairly safe to say that the audio and graphics industries rely on the adaptability of its workers regarding technological innovation, so adapting to new ways of doing things is in our DNA more than other sectors perhaps. This is probably to our advantage.
---
OneVoice Awards Winner
The highlight of the month must be the One Voice Awards Ceremony on the 19th. This had been postponed from May for obvious reasons, and due to the ongoing obvious reasons went totally online. Putting on a suit to eat spaghetti Bolognese in my own house wasn't my favourite thing to do ever (but we did eat in the dining room for once), but the event was surprisingly good fun for what was essentially Just Another Zoom Meeting. And putting on the suit was worth it because we won the award that we were nominated for.
Officially Bee Productive is the Voiceover Services Provider of the Year, but it is a trading name of B Double E and we know some people voted for Helen too, so it's definitely a joint effort. And the award itself is sitting proudly in our living room where everyone who comes into the house (not that anyone is coming into the house at the moment) can see it and tell us how brilliant we are!
---
Studio Tickling Tours
The studio visits are still sadly lacking in my schedule – although I did manage a couple during September. Visiting local VOs is possible, but given that the restrictions aren't going away any time soon this is one of the areas of work that we need to sit down and figure out how to make it happen safely. Watch this space!
---
A Huge Audiobook
Towards the end of September I took on a project that turned out to be bigger than anticipated and resulted in many late nights and weekend working. I edited an audiobook that was 17 hours long when completed. Audiobook editing is something I've never really pushed as a service, as I never really thought I had the patience for it. I guess editing this book proves otherwise. The VO sent me over 26 hours of raw audio, and I discovered that ProTools has a maximum session length of 24 hours. During this job the interruptions for Skype and Zoom sessions really kept me sane!
---
A few days off
The last few days of the month were taken with us trying to have a few days off. But anyone who runs their own business already knows that that never really happened. We did get to Chester Zoo for the day though which was good (and it didn't rain!).
---