A voiceover brand personality reflects the tone of voice, colour pallet, photography styling, typography – the heart and soul of a voice actors business.
There are lots of different elements that make up a brand and many reasons why voice artists should develop their own brand – you can find out about them in Branding For Voiceovers, Part 1.
Developing a brand personality is a great way to dig deep into what matters to you and your business, and gives direction on how to show that visually.
---
What is a Brand Personality?
A voiceover brand should reflect the heart and soul of the VO's business. It should represent the customer experience you want to have associated with your brand. From the tone of voice, colour pallet, photography styling, typography – everything should reflect the same brand personality.
Whether your brand personality is a bright, fun and energetic experience or a quiet, calm and relaxing experience – you want that feeling to be consistent and represented in all your communications – both with the language you use and your visual style.
For a voice artist whose values are about comforting clients, family orientated or caring deeply about nature – using a colour palette that is bright, with textures that are fussy, and quirky typography doesn't represent that feeling visually. It will clash and feel awkward and out of place.
Get the branding personality matching your visual style, and the whole brand becomes stronger and it is easier to see what fits and doesn't fit when planning your marketing too.
Branding personalities are split into four seasons – spring, summer, autumn and winter. Each season has its own personality traits and ways to represent that visually with tone of voice, colour pallets, patterns and textures.
Take some time to write down your business values and then see which of the four brand personalities best fits those values.
---
The Four Seasons.
---
The Spring Brand
Full of life and energy, the spring brand is bursting with fun and ideas. Brands have a relaxed and approachable feel, they are fun to be around. Clients get energised when working with a spring brand – it's full of positive energy and light. It's a fun, sometime mischievous brand, bringing people together as a community.
Key words: Fun. Lively. Fresh. Expressive. Approachable. Friendly. Youthful.
Brand voice: Communication is clear, bright and engaging. It is fun and inspirational.
Colours have a light energy to them – there are no moody grey colours – yellow, sky blue, baby pink, apple green.
Typography is fun and playful.
Patterns and textures have a bounce and lightness about them. Images should be playful and bright – think polka dots and hand drawn textures.
Photography is light, bright, colourful and cheerful.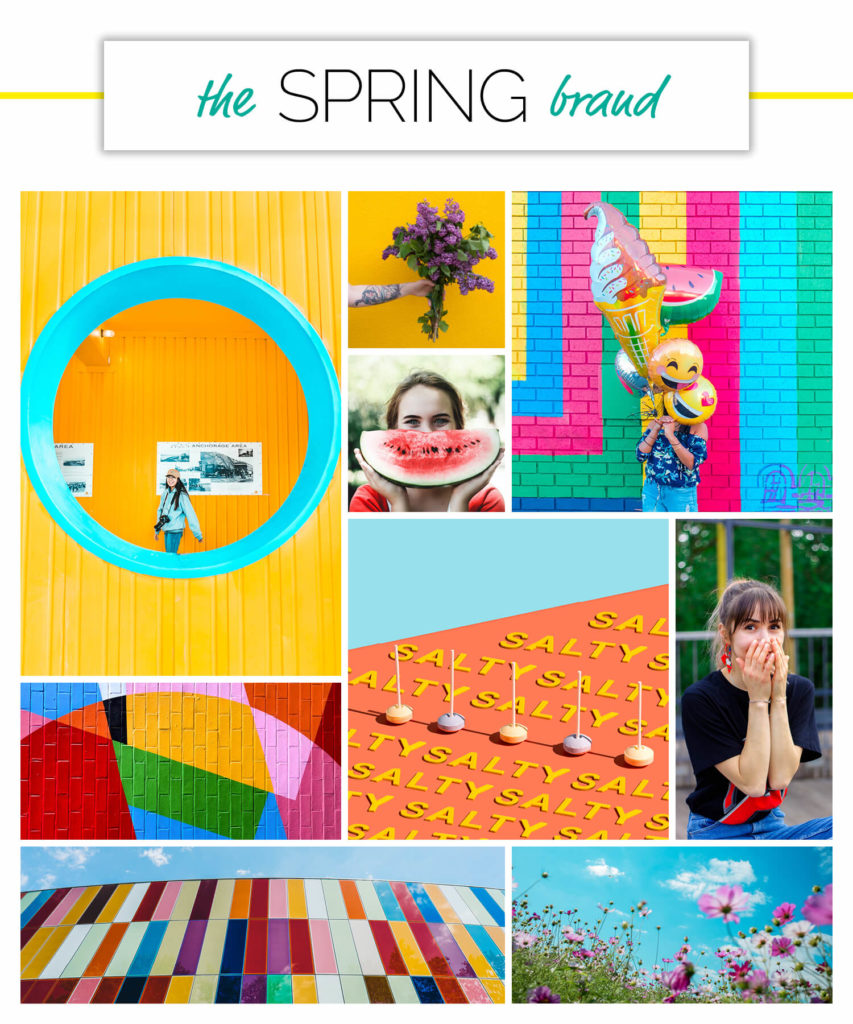 ---
The Summer Brand
Graceful and elegant, the summer brand is a little more reserved. It is a caring, efficient and well organised brand with a calm order that won't let clients down. Supportive and sensitive to client's needs, it has a strong sense of responsibility towards them.
Key words: Romantic. Timeless. Caring. Elegant. Thoughtful.
Brand voice: Cool, calm and collected. Never flustered, never dramatic. An eloquent seriousness to their tone, and always grammatically correct.
Colours are delicate and muted, a touch of grey adding a coolness to them – rose pink, powder blue, lavender, sage.
Typography is flowing and graceful but not fussy.
Patterns and textures are soft and unstructured – no harsh lines or points.
Photography is floaty, relaxed, hazy.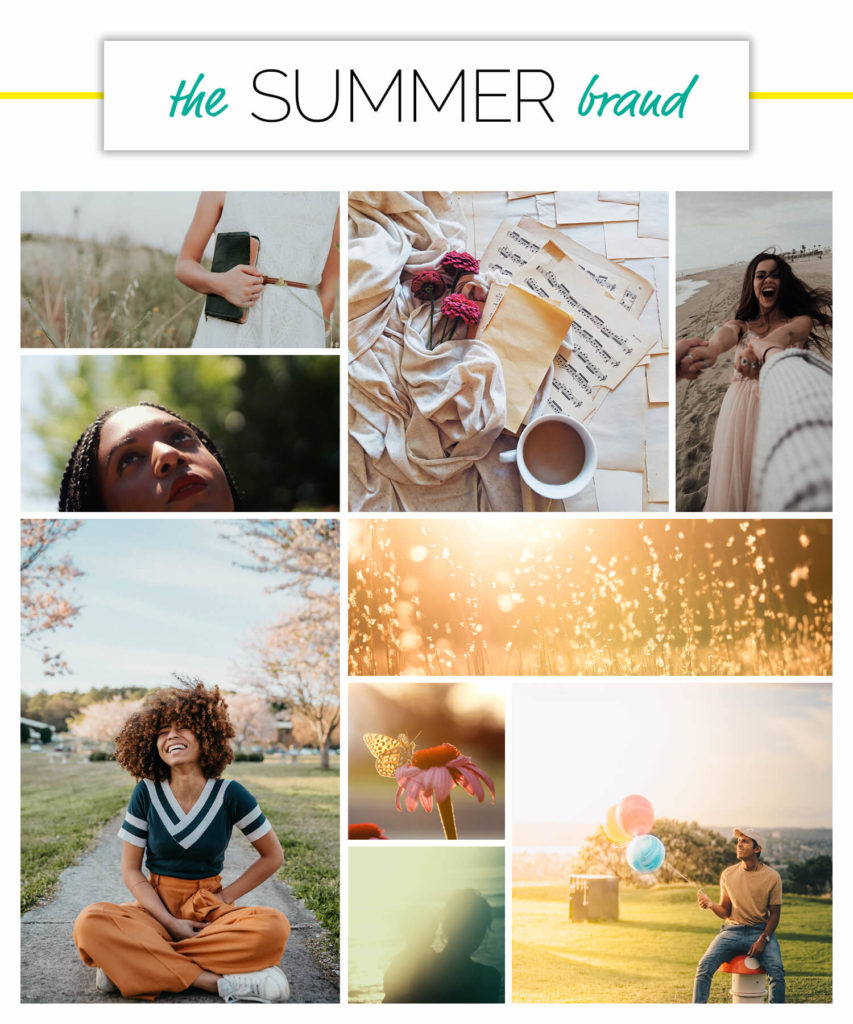 ---
The Autumn Brand
Passionate and earthy, autumn brands are the least materialistic of all the brand seasons. Customers are at the heart of what they do, being well looked after and cared for and becoming a part of the business family. They challenge the norm, and are often connected to nature.
Key words: Organic. Compassionate. Rustic. Natural. Cosy. Love of learning.
Brand voice: Warm, approachable and friendly but also intelligent and creative.
Colours are warm, rich and muted – burnt orange, forest green, saffron, ivory, aubergine.
Typography is solid and soft – nothing frilly or flimsy.
Patterns and textures are natural and solid.
Photography is rich, deep and dark in colour.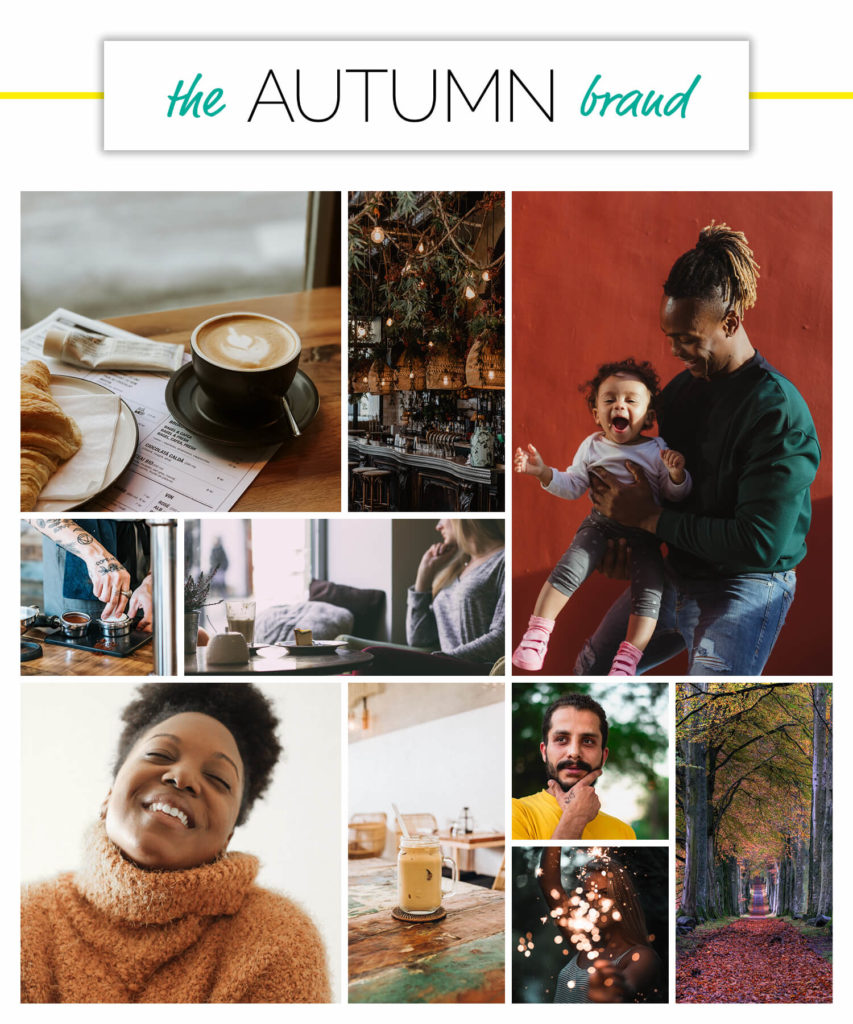 ---
The Winter Brand
Dramatic, opulent and exquisite – nothing is understated with a winter brand. It is highly focused, minimalist, clean and clear. Often associated with high-end products and services, this is the brand for the luxurious.
Key words: Precision. Sophistication. Dramatic. Luxurious. Cool. Grounded.
Brand voice: To the point and straight-talking, winter brands tell things the way they are, with no fluff, frills or sugar coating.
Colours are bright and intense – white and black with bursts of bright ice blue, lemon yellow, lime green, shocking pink.
Typography is minimal, formal and nothing frilly.
Textures and patterns are geometric, dramatic and bold.
Photography is dynamic with clean lines, minimal colours and an opulent feel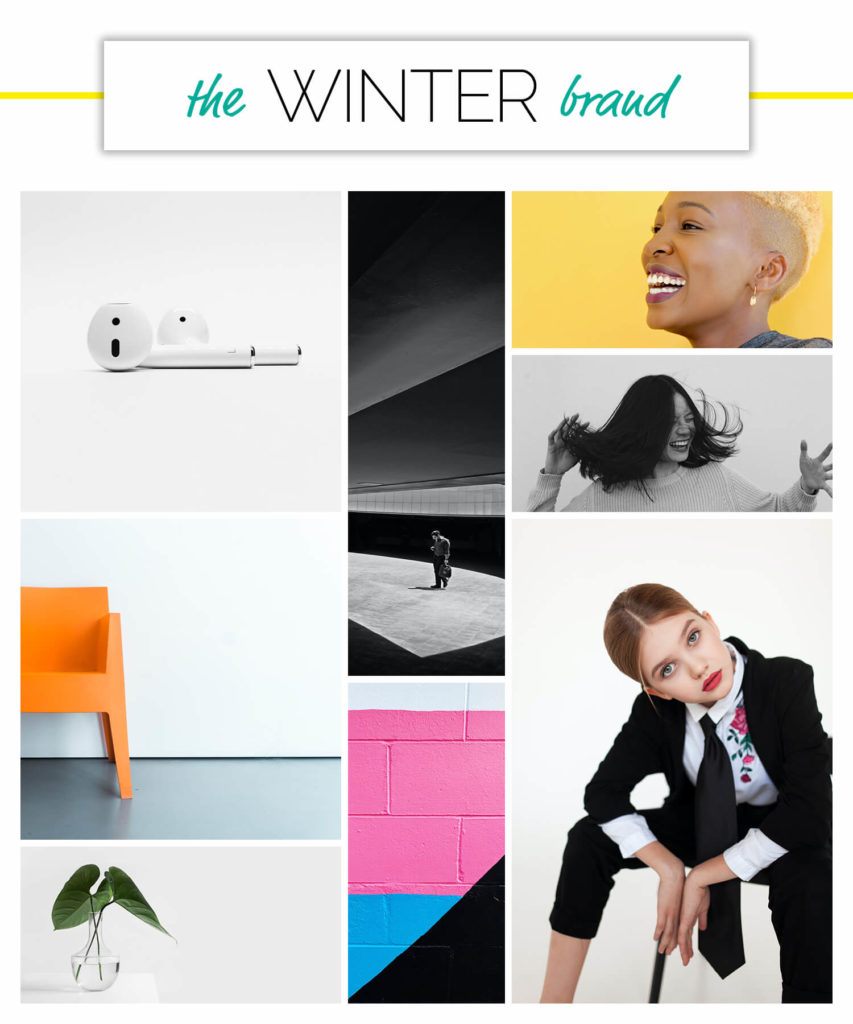 ---
All photos from Unsplash
---
Ready to start your own branding project? Helen helps established and new voiceovers to find their brand personality. Find out about Branding Packages here.
Have a look at Helen's most recent design projects here.
---
You might also enjoy reading…