I've always felt uncomfortable with pushy traditional marketing. It has never been something I've wanted to associate with my business and Karen's ethical approach has been enlightening and confidence-boosting.
---
A few months ago I was honoured to be asked to interview for Karen Webber's blog. Karen runs Goodness Marketing, and I really can't remember when I first met her. It was almost definitely Instagram related.
I've been on a few of Karen's courses and workshops (which I recommend to my clients), I went to the Wilderness Tonic Retreat that she co-runs with Katya from EasyInstaMCR and I'll she'll be coaching me in 2021 too.
What has been especially refreshing about getting to know Karen is her passion and determination to do marketing that's ethical. She doesn't use bait techniques. There is no sign up to a free webinar only for it to turn into an aggressive sales pitch. You won't be bombarded with hard-sell emails or charm pricing and offers when you sign up to her newsletter. Her approach is one Rob and I wholeheartedly agree with and working with Karen has empowered my own determination to do things differently too.
---
Helen, tell me more about your business and how you got to where you are today.
I co-run B Double E with my hubby Rob. We help voiceovers to be seen and heard.
Rob is the 'heard' half of B Double E; he's an audio producer, engineer, trainer and studio set-up & tech whizz.
I'm the 'seen' half; I do all things visual – branding and logos, websites, website reviews – anything with images and text either digital or print.
We're a young company – set up in April 2018. Before that I was a freelance graphic designer for 6 years and prior to that I worked as a studio manager / graphic designer for design agencies and in-house (both commercial and in the charity sector). I started my career as a web designer just after Google was invented in 2000 after graduating from uni at Nottingham Trent and moving to Manchester.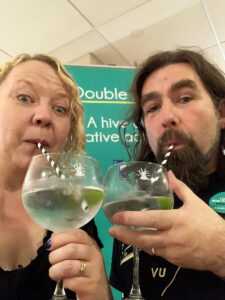 If you want to find out more about us, check out our About page…
---
How has your approach to marketing changed from the early days in your business to now?
It's changed lots. I've always felt uncomfortable with the traditional marketing tactics of bigger agencies and companies so I've had a strange relationship with marketing. Having worked for some big ad agencies and companies and seen the not-always-honest ways they sell, I've felt that traditional marketing was more about forcing or tricking someone into buying – I've never felt comfortable with the sales tactics many business use.
Rob and I are not about trying to cheat people into buying our services or getting them to spend money with us (I know how that sounds!). We don't want potential clients to feel they have no choice but to use our services – we want people to want to use us. We want them to trust that if we suggest a solution, it's the best price or option we can find. We won't over-sell and won't offer services if we think people don't need them. We'll be honest, open and work as hard as we can to get something to fit a client's budget and make the biggest difference we can to their business.
That isn't how I've seen traditional marketing work, although I'm now believing ethical marketing does exist and it can work (thanks to meeting you!).
It can (and often still does) feel overwhelming – you have to do a lot of different jobs when you're a small business – but I'm learning to set aside proper time to work on our promo, not just client work.
I never used to do this and changing that is having a positive impact. Rob and I have had to learn how to talk business with each other too – which hasn't always been easy for two essentially introverted non-business types!
It may sound odd but we have our most productive business and marketing chats when we're out of the house, usually in the evening (we both have home-based studios, but thankfully on different floors of the house!). Honestly, our best ideas have come after we've been sat in our favourite local wine bar or supping pints from a brewery tap room somewhere.
I've also invested in business/marketing training too, having never done so before and I'm realising how important it is to do that too.
---
Which marketing approaches/strategies/tactics have worked well for you?
We want our clients to trust us. Both of our jobs involve getting into personal spaces with the voices we work with. For Rob, they let him into their homes to set up studios or open up about their tech fears. For me, I dig into the personal reasons for being a voice artist to discover why they do what they do, what makes them unique and work out how to represent their brand visually.
We can't do it without their trust and openness. We can't earn that trust (or deserve it) with hard-sell or misleading marketing tactics. We build relationships. We learn about what our clients want and fear. We support them and do our best to help them overcome their fears, and be more confident with their tech and branding.
Usually our biggest clients come from personal recommendations from other people who have worked with us. Or just simply chatting over time and getting to know people has always been our preferred way to discover new clients.
And it's working – we won 'Best Voiceover Service Provider of the year' award at OneVoice a voiceover awards ceremony this year which is a huge honour.
---
Which element of marketing do you enjoy the most?
We've had so much fun going to conferences, socials and networking groups it sometimes doesn't feel like work. The voiceover community is just that – a community – it's not like anything I've ever experienced. As a group of essentially competing individuals that are incredibly supportive of each other.
It's great getting to know them and we're both really missing the in-person events, although there are a fair few online meetups now too and we've set our own up since lockdown too – The Pint & Rabbit (named that as we have 2 house rabbits). It's an excuse for a 4pm pint and chat but it's also networking.
I've never been a fan of the old-school 6am breakfast business networking groups – far too tribal for me.
---
If you were given £10,000 to spend on your marketing, how would you spend it?
First up I'd get a pro photoshoot for us both – we really need to do this! We're both camera shy and hate having our photo taken which is probably why it's not happened yet, but we really do need to get this sorted. Covid was an excuse for a few months, but I can't use that any longer!
Next would be more training and coaching (which I'm planning to do anyway but I'd invest more). To get advice about every page on our website, how to better word and structure things – that would be fab!
We both write blogs (I'm learning to enjoy it more thanks to your blogging course) but I'd love to be able to afford to hire someone to split them into promo posts for us. I hate feeling like I'm selling things, so to have someone else write those posts would be amazing!
I'd love to have a cleaner too but not sure that one counts!
---
What would you do if you were magically given 3 hours extra a day?
I'd probably not spend it working! I really do love what I do as a job – I've never been happier or more content than I am now, but it takes a huge amount of energy running your own business – especially in the first few years – and as we live and work together it can be tricky separating home and work sometimes.
I'd allow myself to play piano more and probably join a band again (I sing and used to do pub gigs and small festivals with Rob). We both love being in nature, so we would probably spend more days in a hide at an RSPB reserve. We're also both homebrewers – and you can never have enough time to drink beer!
---
Quick-fire questions
Recommend a podcast
Only 1?! Hmmmm. I'm putting 4…
---
Early bird or night owl?
Night owl – it takes me ages to wake up in the morning – lots of good coffee is always needed to drag me into consciousness (and the morning gym session helps too). However, stick me in a party or pub at night, and I'll stay awake until the next morning.
NB Anyone who has been at a social with us (virtual or otherwise) will know this!
---
Worst job you've ever had?
Oh there have been so many!
Barmaid with a sleazy boss in a small rural pub. Commercial kitchen pot washer. I worked in a sweet factory one summer – that was awful – the sweet sickly smell was horrid at 6am.
I've had a fair few bad design-based jobs too – mainly due to being a female working in a male-dominated industry. A few years ago I discovered I was being paid as a freelancer less than the male freelancer I was managing. He was as annoyed as me thankfully. That was an interesting conversation with my agency and the boss where I was freelancing, but it did get resolved eventually.
---
Favourite social media platform?
I'm a visual person so Instagram all the way – although I'm getting to love Twitter too.
---
What one thing does the world of business need more of?
Companies that put people and the environment before profit. And big companies to pay their fair share of tax. That Amazon and Facebook make so much money and give next to nothing back to their staff, customers or the countries they make profit in makes my blood boil. Why is that so unusual? The world would be a much better place if we looked out for each other.
---
You can read the original interview on Karen's website here.
To find our more about the services Helen and Rob offer, click HERE.