…getting to know all about you.
What is the #GettingToVOYou challenge?
We all struggle to know what to post on social media on occasions, so we thought we would help out.
This challenge gives you 31 prompts and image ideas to help you shout about your business, who you are, the work you do and why clients should hire you. And we've included some handy planners and templates too!
The challenge is open to everyone. It's written with voice artists in mind, but anyone is welcome to use the prompts, planners and templates.
These prompts were designed for use on Instagram, but they will work equally well on other social platforms. There are no set dates to post. Post 1 a day, 1 per week or whenever you want. They are here to be used in a way that best suits you.
We're really excited to see what you post!
Don't forget to use the hashtag #GettingToVOYou and tag us @B_2_Es when you post so we and others can see and share your posts. Follow #GettingToVOYou too so you get to meet other VOs doing the challenge.
---
How does it work?
1. The Planner Pack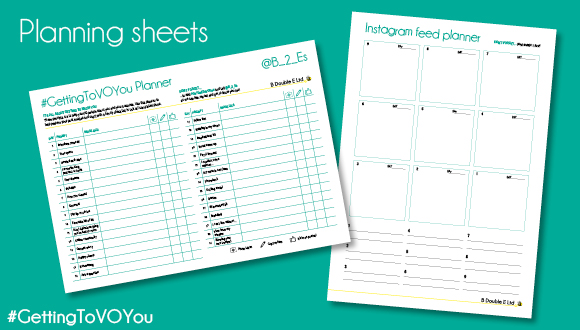 This pack contains two printable sheets.
Prompt Planner lists all the prompts with space to put your image ideas and a tick list to keep track of when your photo has been taken, caption written and when you've posted it.
Feed Planner this is to plan how your posts will look on your Instagram wall when you've posted them. There are apps you could use instead including Mosaico, Panoly or Preview: Planner for Instagram. This planner can be used for all your Instagram posts – not just the ones for this challenge.
Download the planner pack here.
---
1. Templates
Feel free to use these templates as often as you want to. Click the links below to download your templates.
All templates are jpgs. You will need to use an app like Canva or photoshop to add text to the images for your feed. You can add text etc to the Instagram stories backgrounds from your Instagram app.
---
The Prompts
The prompt titles are listed below and each of them has an image suggestion or two. The photos you take could be anything – you don't have to follow the suggestions.
Get creative, be yourself, show your followers who you are, and most importantly HAVE FUN!
We're really excited to see what you post, so don't forget to use the hashtag #GettingToVOYou and tag us @B_2_Es when you post.
---
1. Introduce Yourself
Tell the world about the person behind the voice. Introduce yourself. What do you enjoy? Where are you based? Any interesting facts?
IMAGE IDEA: Photo of you (better than a logo) so people can put a face to your name.
---
2. Your Space
Do you voice from your own home studio or travel to another studio? Where do you do most of your voicing? A small space, a purpose built studio, or maybe you hire studio space? Show us your space.
IMAGE IDEA: Your studio (inside or outside) maybe with you in it. A closeup or interesting angle of something in your studio. Something you love that hangs on the wall.
---
3. Unwind and Relax
We all need to allow ourselves time to relax. Taking time out re-charges us which is good for our mental and physical self as well as enabling us to do our job well. What's your favourite thing to do to unwind and get away from it all? A walk? Going to the gym? Music? Or a favourite view?
IMAGE IDEA: You in your most complex yoga pose. Your feet walking along a path. A group photo of you and friends at the pub. Your band playing live. A view from a hill top.
---
4. Favourite Blog, Podcast or Book
This could be anything – fact or fiction. Biography or business. Escapism or inspiration. Paperback, audio book, blog or podcast? What's your favourite read or listen?
IMAGE IDEA: A photo of a book on the corner of your sofa. Sat in a hammock with headphones. You holding your phone showing the podcast on screen.
---
5. Your Dreams
Maybe you want to voice a specific novel or biography. Is there a producer or broadcasting company you would love to work with? Do you dream of coaching or mentoring? Maybe it's a client you've already worked with, but enjoyed the job so much you want to do it again. What are your dreams and hopes for the future?
IMAGE IDEA: You dreaming. A showreel. The book you'd love to narrate. (note: image template available in the download pack)
---
6. #Shelfie
From piles of books, to luscious plants, from beautifully organised pots and tubs, to crazy disorganised but beautiful chaos, from shelves filled with photos or a just one precious item.
IMAGE IDEA: A photo of a shelf, either closeup or from a distance. Play with light and angles. Plants can look like jungles. Big shadows make for a dramatic image. Or just lots of shelves piled high with books in colour coordinated glory.
---
7. How You Started
How did you get into voiceover industry? What's your VO origin story?
IMAGE IDEA: A sample of your first VO job. A photo of you when you started. Your first piece of kit that's still going strong. A quote that perfectly sums up why you do what you do.
---
8. Showreel
It's your time to shine and show off what you do best. Post your favourite showreel or sample of work
IMAGE IDEA: Wavve app allows you to add your own showreel to your posts. Follow their how-to guide here – there is a free-to-use option.
---
9. Top Tip or Advice
Wether you're an experienced VO or just starting out – what do you know now, that you wish you'd known before? This could be anything from finding your working-from-home routine, best practice for accounting, or simply a way to start your day that makes you feel great.
IMAGE IDEA: A quote. A film of you 'doing' your top tip.
---
10. Favourite Bit of Kit
Be it microphone, acoustic treatment or laptop – what is your most prized bit of kit or the bit you couldn't voice without?
IMAGE IDEA: A beautiful photograph of the bit of kit you treasure the most. Closeup, super detailed, abstract looking, or flatlay.
---
11. Most Ridiculous Thing You've Had to Voice
Names that sound rude, crazily long technical words, names you've struggled to pronounce, a script that made you cry with laughter or just a very odd thing to voice.
IMAGE IDEA: The word/s or phrase you had to say. Photo or film of you voicing the word/phrase.
---
12. Online Community
Facebook? LinkedIn? Where are your go-to online community groups? And why?
IMAGE IDEA: Group photo (get everyone's permission first). Their logo. Repost something they have shared.
DON'T FORGET… tag or add a link in your bio/LinkTree so people can find it! (visit our blog about LinkTree if you don't about it)
---
13. Current Worry
Social media is full of success stories – from amazing holidays, to fantastic clients – it's easy to forget that every single one of us also has times when we struggle. It could be that business is slow or a client doesn't pay invoices on time. Maybe you're trying to figure out a new service or something is happening at home that means work has to take a back seat. From the small things, to the big – it's ok to have worries. It's part of what makes us human
(NOTE: this isn't the time to bad mouth a client, but could be a good place to ask for advice on how people deal with late paying clients. AND REMEMBER you don't have to share anything you don't want to.)
IMAGE IDEA: A quote. A calming image. Film yourself. A doodle to represent how you feel.
---
14. Happy Clients
It's a fantastic feeling when a client gives you great feedback and loves the work you did for them. Time to shout it from the rooftops!
IMAGE IDEA: A quote from a client
DON'T FORGET… to credit and tag the client.
---
15. Boomerang
Create a mini video loop and share away. (warning – this app can be very addictive!)
IMAGE IDEA: Download the app (it's free) and experiment! It creates short, looping films. We have a blog with more information about the boomerang app here.
---
16. Ask a Question
Do you have something you need help with? Or what have you always wanted to know from other VOs. Maybe you want to know what apps people use to keep organised. This is your chance to ask your followers for advice and top tips. Or anything else you want to know!
IMAGE IDEA: Text on a colour background. Film yourself asking the question.
---
17. Pillow Fort
Ever made a pillow fort between two hotel beds with a duvet over your head? In a tiny cupboard under the stairs that was too small and you could only fit your head in? What's the most unusual place you've recorded your voice for a job?
IMAGE IDEA: A photo of your best pillow fort or the most unusual place you've voiced from.
---
18. Walking In My Shoes
Not just a picture of your feet, this is your chance to give an insight into your every day. What's it like being a voiceover? Do you have morning routine? What is it like to be you? #InMyShoes
IMAGE IDEA: Your feet …stood while making breakfast …sat at your desk …standing on a crowded train …a film of you splashing in puddles …your favourite funky pair of shoes.
---
19. Inspirational VO
Time to big up other voiceovers and tag away! Who do you admire, who inspires you, who do you learn from?
IMAGE IDEA: Photo of the person (check you can use it first!). Their logo.
DON'T FORGET… tag them or add a link to their profile in your bio/LinkTree so people can find them!
---
20. Vocal Warm-Up
What's your favourite way to get those vocal-cords sounding gorgeous. From tong-twisters to lip rolls and trills – get your enunciation and articulation tip-top.
IMAGE IDEA: Type on a colour background. Film yourself doing the warm-up.
---
21. Pay it Forward
This could be anything from reducing waste, to fighting for VO rights, to volunteering with a local wildlife group to running marathons for charity. What do you do to try and make the world a little bit brighter.
IMAGE IDEA: You doing your thing. A pile of recycling. Your favourite eco-friendly product. The group you volunteer with (check you have their permission to use their photo first!).
---
22. I Couldn't Voice Without…
And I don't mean your voice/vocal chords. Shout about what/who/where you could not survive without. Maybe a go-to website, invaluable tutorials, or just a great forum or conference where you learnt loads.
IMAGE IDEA: A photo of the person (get their permission first). An image of the website/blog/podcast.
DON'T FORGET… If it's a person, tag them. If it's something online, add the link in your bio/LinkTree so people can find it!
---
23. My Voice is Out There
Where can others hear your voice?
IMAGE IDEA: A clip from a game or cartoon. A shot of a shop you're the voice of. A photo of the TV with you on it.
---
24. Throwback
A past event you had a great time at An embarrassing school photo. The first job you ever voiced. Your first home studio.
IMAGE IDEA: An old school photo. A sound-bite of your first ever showreel.
---
25. Getting Social
What is your favourite VO or business social / networking group? Maybe you don't know of any VO socials near you. Or you're on the lookout for new networking groups to go to. Let others know your faves or shout out for some recommendations.
IMAGE IDEA: Screenshot of an Instagram feed. The logo from the group.
DON'T FORGET… add the link in your bio/LinkTree so people can find it!
---
26. Quotes
A quote that gets you motivated. A quote that inspires you. A quote that makes you look in wonder. Or a quote that simply makes you smile.
IMAGE IDEA: Text on a simple colour background. Graffiti on a wall. A poster. A blackboard. Magnetic alphabet letters.
---
27. Favourite Wall
Who doesn't like a good wall? Maybe it's a crumbling dry stone wall winding though the countryside. An urban wall covered in graffiti. A treasured painting. A wall in your house covered with photos. A hidden view over a wall.
#favouritewall
IMAGE IDEA: A photo of your favourite wall (and you in front of it). From a distance or very detailed. Abstract and obscure or bright and colourful. You peeking over a wall.
---
28. Branding
Shout about your brand. Show us your logo. What does your brand say about you. Does it represent your fun, energetic voice, or do people feel calm and relaxed when they see your brand and your voice too? Or, if you're not sure about your brand, ask others for advice.
IMAGE IDEA: Your logo, business cards and letterhead with your website on a laptop.
---
29. I Can't Live Without…
… coffee. Laptop. Family. Mobile phone. Faithful pet. Garden. This could be anything!
IMAGE IDEA: A photo of a laptop could look boring, but take the photo from above, with a drink on the table, with your dog snuggled beside you and you get a great image and we get an insight into what it's like being you.
---
30. View From My Window
Simple. Post a photo of the view from your window. It could be a window in your studio (if it has one), your kitchen, car, a coffee shop, or your favourite place to get admin work done.
IMAGE IDEA: The view from your window. Looking out at a rainy street when you're sat inside with a hot cup of tea.
---
31. Blowing Your Own Trumpet
When you talk about it you start to glow and beam with pride. What's that thing? Is it a job that got you the most excited? An award? Maybe it was the thing that kick-started your career. Or was it working with your dream client? It's time to show off what you are most proud of!
IMAGE IDEA: A film clip. You getting your award.
---
Ready to join the challenge?
---
---
If you have any questions or want more tips or ideas on images to use, contact me (Helen) – I'm always happy to help! Find me on Instagram as @B_2_Es. Our Facebook page is here or you can email me directly too.
---