Written by Canadian based Voice Over Artist and copywriter Dennis LM Lewis after a collaboration project between Dennis, myself (Helen Bee – a UK based voiceover website and branding strategist) and his Canadian based website developer.
Project: Website Complete Plan. You can view the project here too.
---
The Story of a Unique Trans-Atlantic Collaboration in the Building of a Voiceover Website
Part 1: Slouching towards voiceover oblivion – the perils of a generic website
In December 2022, I decided to make some big changes in the professional identity I'd created for myself via my voiceover website. Over the previous year, I'd finally felt confident enough to embark seriously on the path to become a professional voiceover artist. I'd contracted the freelance web designer who'd previously built the website for my copywriting business to build me a cut-price website for my bold new venture in voiceover. I had two recently completed demo reels and was eager to set up a site and establish myself as a voiceover artist. I'd studied the vibrant websites of up-and-coming talents in the industry, and I wanted to emulate their examples.
I took a photo of myself in my makeshift vocal booth, cobbled together a template and the content for my voiceover website, basing everything on the examples of my favourite voiceover websites, and then sent everything over to my freelance web designer. And in a mere two months, I had a voiceover website.
Needless to say, it looked pretty mediocre. In fact, it looked exactly like what it was – a website that had been built on the fly, without much consideration given to proper layout, navigation, audience, and SEO. Crucially, the website lacked a coherent and consistent brand identity. It was a very generic, dull, second-rate voiceover website. Small wonder that it attracted very little web traffic.
Part 2: A Painful Realisation
By December 2022, I felt frustrated and also uncertain about what I should be doing in order to get properly started as a voiceover. Specifically, I didn't know what my brand identity should be as a voiceover, whether voiceover would be a viable path for me, or whether I would be able to find work as a voiceover.
When I looked at my voiceover website, it didn't inspire me or give me confidence. It only seemed to raise more questions and self-doubt: what types of voiceover services did I offer? Who do I help? What was my voiceover brand identity and how did it relate to my identity as a copywriter? Was a voiceover business even a viable option for me?
I experienced the painful realisation that my website had been poorly designed, ineffective from an SEO perspective and that it made me look like an amateur.
Clearly, I needed to make a big change, but I was unsure who to turn to.
The web designer who'd built my copywriting website had no experience with voiceover websites. It's true, there was a well-established American company which specialised in voiceover websites. But I found their sample websites looked bland and generic, lacking personality. And there didn't seem to be a respected specialist in voiceover websites operating in Canada.
One morning, while attending a Zoom meeting of The Creative Collective, a UK-based business networking group I belonged to, I happened to be chatting to Liz Drury. Since Liz is a well-established voiceover artist with North American as well as British experience, I asked her for advice on finding a web-building service that focused on voiceover sites. Liz suggested I give the UK-based company B Double E a try. The surname was reassuringly familiar to me as I'd attended some studio tech webinars/coaching sessions on the Gravy for the Brain led by a Rob Bee. Through my involvement with GFTB, I knew that Rob and Helen were married and ran a successful two-fronted business together – Rob is a vastly experienced audio engineer, producer and studio whizz, and Helen was someone with years of experience building websites and helping voiceovers with their brand identities.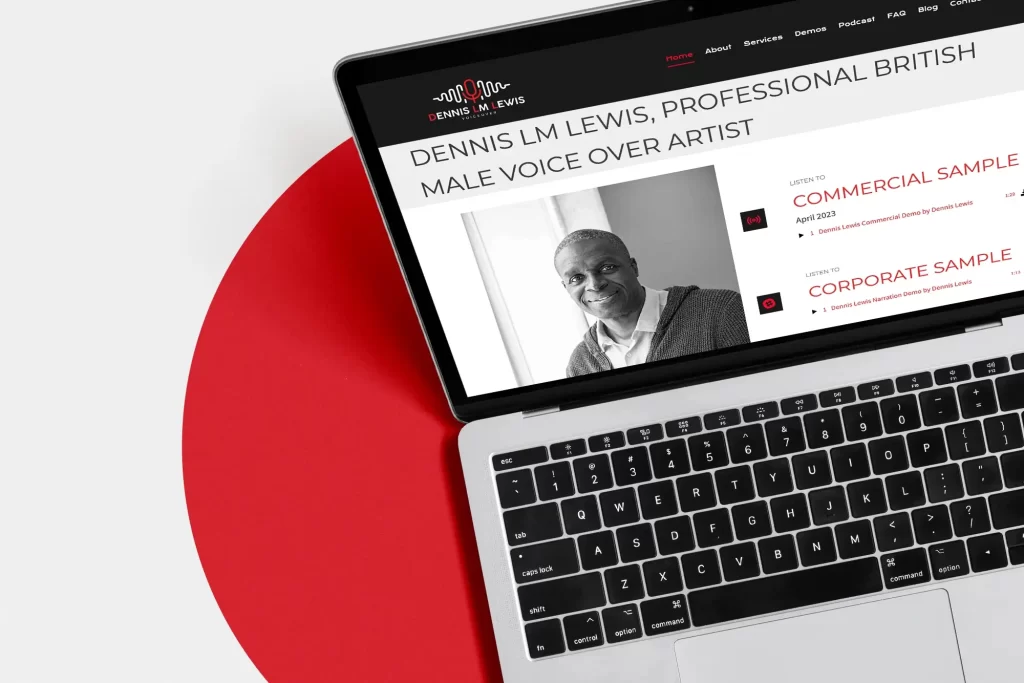 Part 3: The B Double E Solution
I booked a Zoom meeting with Helen Bee and I outlined my needs and concerns to her.
From the start, I was impressed by the fact that she listened carefully to what I had to say. It was easy to talk to her and work out a vision for my website. The fact that Helen was friendly, good-humoured, and amiable in her disposition also helped.

There were several unique aspects to my project which I thought might be nonstarters for her:
I was based in Canada rather than the UK
Maybe the distance would cause issues in working together?
I had an existing copywriting website
I wanted the voiceover website to complement my existing site wiseonwords
I would be working with another web developer
Partly due to financial constraints and partly to my web designer's familiarity with my existing copywriting business, I would be working with a Canadian-based web builder and SEO specialist.
Yet, in spite of these divergences from her normal type of project, Helen was still open to working on my project. She was also enthusiastic about meeting my web designer and collaborating with him.
I was, in fact, much more apprehensive than she was about the potential for clashes between the two of them over their different approaches to web design.
Helen offered 3 options for her website services:
A Website Review – involving a detailed review of someone's current website and then a 90-minute talk with recommendations and answers to questions,
The Complete Plan – involving a website review, a 1-2-1 focus planning session, the provision of a template for the site, and then 4 hours of 1-2-1,
I decided to go with The Complete Plan because my web designer was completely unfamiliar with the world of voiceover. He and I needed Helen's expertise in building a voiceover websites with detailed input on site structure, page content, site navigation, and the integration of other services.
The Complete Plan was also a much more affordable option than the full website rebuild.
Helen's Complete Plan consisted of 5 main stages:
a detailed initial questionnaire about my business
a thorough review of my then-current website – looking at the branding, logo, colours, typography, images, the tone of voice of the site's copy, the navigation, the functionality of its demos, broken links, and the site's speed
a 1-2-1 Zoom chat about what I wanted on my website
her detailed website structure plan – including suggestions for content, a site map, and SEO guidance
4 hours of follow-up support and chat
My Canadian-based web designer built my website using the structure plan that you provided. Even though on paper it looked like a potential recipe for clashes over different approaches, it worked surprisingly well.
Helen's readiness to suggest different approaches, examples and resources for me to adapt or be inspired by I'm still finding helpful!
Part 4: Collaboration Across Continents
What began as an uncertain project with the potential risk of clashes over different approaches, concluded with the reasonably successful completion of a distinctive voiceover website. As with most major creative projects, there are some areas that need minor tweaks and improvements. But overall, the successful completion of this website project is a true testament to the power of collaboration, even across continents!
Now, that the project is formally completed, I feel that we've accomplished creating a professional looking website that can serve as a viable basis of my voiceover business. I feel that the project presents a plausible and coherent brand identity which I will be able to grow into.
---
About Dennis LM Lewis
Dennis LM Lewis is a writer, voice over artist, and university lecturer based in the Kitchener-Waterloo region of Ontario, Canada. He's the founder and owner of Wise on Words and Dennis LM Lewis – Voiceover Artist.
Born and raised in London, England, he moved to Toronto, Canada in his late teens. He completed BA and MA degrees in English at the University of Toronto, and then went to work as an Editorial Assistant at the CBC National Radio Newsroom. At the CBC, he wrote news scripts for the hourly radio news broadcasts and for popular news shows like "Canada at 5" and "The World at Six."
From 1997 to 2002, Dennis lived and worked in Bangkok, Thailand, teaching English in universities and helping to build English programs and create courses in literature and integrated humanities. Going on to teach for 14 years at universities in the United Arab Emirates and Qatar. During that time, he earned a PhD in Creative Writing and English from the University of Essex.
Since 2017, Dennis has taught engineering communication and literature classes at the University of Waterloo.
Galvanised by the tech start-ups, innovative businesses, and entrepreneurial energy of the Kitchener-Waterloo region, he founded freelance writing company Wise on Words in 2019.
One day, while writing the script of a training video module for an IT company, one of the company managers realised that the module needed a voice to bring it to life. He asked Dennis to record a voiceover, and the penny finally dropped. Dennis realised that there was a market need for professionally trained voiceover talent with strong professional writing skills. The voiceover side of his business – providing eLearning, Web videos, explainer videos, commercials, and narration – is the natural complement to his copywriting and content writing.
Here's where you can find Dennis: